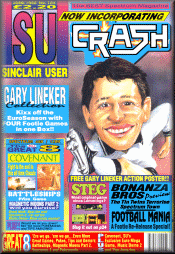 Issue 124
June 1992
Editor
Alan 'Serendipity' Dykes
Design
Yvette 'Africa' Nichols
SU Crew
Garth 'Manana' Sumpter
Steve 'Extensions' Keen
Ed 'Radian' Laurence
Pete 'Invoice' Gerrard
Graham 'Roadworks' Mason
Philip 'Cray' Fisch
Toni 'Missing person' Naqvi
Jules 'Faggot' Watsham
Ad manager
Tina 'Highgate' Zanelli
Production
Matthew 'Levis' Walker
Mr Marketing
Mark 'Psychographic segmentation' Swallow
Marketing persons
Sarah 'Polkadot' Ewing
Sarah 'Dublin' Hilliard
Publisher
Mike 'V8 Supercharged' Frey
Managing Director
Terry 'Just mingling' Pratt
SOFTWARE
AMERICAN 3D POOL
Zeppelin
More balls than your average shoot 'em up.
CHAMPIONSHIP RUN
Zeppelin
Racing action, but is it really in gear?
CRICKET CAPTAIN
Cult
Reason enough to take up knitting in your spare time.
EDD THE DUCK
Zeppelin
Not too popular as a full pricer but a star on budget.
ESCAPE FROM THE PLANET OF THE ROBOT MONSTERS
Hit Squad
A classic coin-op conv.
THE LINEKER COLLECTION
Kixx
Four footie games some of you might remember.
MANCHESTER UNITED
GBH
The best individual footie game of the month?
MICROPROSE SOCCER
Kixx
Plenty of features, but dodgy action, find out why.
MYTH
Kixx
Terrifying time travel beat 'em up.
PUZZNIC
Hit Squad
Sort out the squares in an unusual arcade puzzler.
SNARE
ESD
Rob the alien caverns but be quick.
STEG
Code Masters
The slime ball hero finally makes an appearance. An SU GOLD.
STRYKER IN THE CRYPT OF TROJAN
Code Masters
Sorcery in an ancient land.
GREAT EIGHT
Here we go again with another storming Great 8. This month there's even more super exclusive games for your delectation. The board game classic BATTLESHIPS is this month's fully playable prize game. We've got MAGNETIC MOON PART 2, a Euro Software game BREAK NECK, the classic PSS game COVENANT and the fast moving horizontally scrolling SPECIMEN 2. There is also another great graphic MUSIC DEMO and, of course, TIPS AMAZING and POKE MANIA. Get going ... Now!
FEATURES
Up Front
News from the Spring European Computer Trade Show. What's happening to whom, when and how!
Hacking Squad
The ravishing Hannah Smith, girlie tipster extraordinaire has some excellent info for June. There is a full map for Spellbound Dizzy (yes we got it right this time), solutions for Tai Chi Tortoise and Batman The Caped Crusader and the usual bevy of tips, pokes and cheats, designed by our Hannah to make your games-playing life that much easier.
Bonanza Bros. Preview
The tin twins are about to make their Spectrum debut ... SU steals the show with a Mega Preview and the first EXCLUSIVE Spectrum screenshots of this storming game from US Gold. PLUS!! Win one of twenty Bonanza Bros. T-Shirts in an SU Super Prize Giveaway.
REGULARS
Sorceress
Tell It To Al
Suck Up
Re-Releases
Checkout
Coin-Ops
SU CREW
It's summer time and the SU Crew are all planning their hols. Last year under the iron fist of pocket sized dictator Sumpter they all got on a bus and went to a quarry in Cornwall for two weeks sweaty hard labour. 1992 looks much more cheerful 'cos big Al' has told everyone to go away for the whole summer courtesy of the mag. But where will they go?

Alan Dykes
Editor
"I'm off to South America to save the rainforests." Yes, Big Al' has some big ideas about his holidays. The fact that he eats ten Burger Mac 'best South American beef' burgers every day and runs a tropical hardwood furniture shop in his spare time doesn't disturb him in the least. "I'm willing to give up my entire livelihood to save the world from an environmental disaster," he said yesterday over an alligator sandwich with golden eagle egg mayonnaise on top.

Steve Keen
Features Editor
Steve has few pleasures in life, which is just as well 'cos they're all very expensive and a little risky to say the least. His latest and greatest holiday idea to date is being locked up for a month with a bevy of lovely ladies, a truck load 'o heavy metal muzik and a large, inflatable banana in the fantasy castle at EuroDisney. He hasn't got around to explaining why he wants to include the last item yet but we're all waiting patiently, if a little worriedly by for the answer.

Matthew Walker
Production Editor
Matthew wants to go to Jamaica for his summer holidays. "I love the flora and fauna of the Caribbean islands and reggae music is simply the best." The only problem is that, because Matthew is so new on the SU Crew Big Al' is going to make him stay behind and look after the magazine and his hardwood furniture shop while everyone else is on holidays. However Matthew reckons that if he can move the whole magazine to Jamaica he can publish it from there. Best of luck Matt.

Yvette Nichols
Art Editor
Yvette wants a holiday in a Star Trek 'The Next Generation' Holodeck, "one of those big rooms on the new Enterprise where you can set up your own hologram holiday scenario and start or stop it as you wish." In fact Yvette wants to get her hands on all the yummy men that one of these machines can create, then just as they're about to fall In love with her, she can make them disappear. Don't you know that's cruel Yvette? "Do I look as if I care!"

Tina Zanelli
Ad Manager
Tina doesn't ask for much either. Her fantasy holiday is a trip to the moon. She says she wants to experience zero gravity, have her face pressed to the window of a space craft and watch the earth move below. She has applied for several space programmes but unfortunately the only one she was accepted for was in the Soviet Union which was subsequently axed because of the revolution. Or so she says.
Colour by
Colourtech
Printed by
Kingfisher
Typeset by
Altyp Inc
© Copyright 1992
Emap Images
Absolutely no part of this publication may be reproduced, stored in an electronic retrieval system or used to kill wasps and bumble bees this summer without the express permission of the publisher. Speaking of wasps and bees, have you seen the size of the blighters this year? Frightening! Special thanks to Wendy Spridgeon for pulling up with Theo, I know the pleasure was all yours, and hallo to Rob and goodbye to George, erstwhile giant of the SU Towers post room, your witty repartee will be sorely missed.