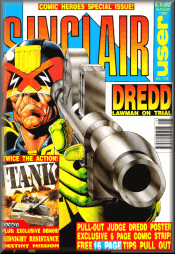 Issue 102
August 1990
CRIME BUSTIN'
JAW BREAKIN'
PERP STOPPIN'
LAW ENFORCIN'
JUDGE DREDD SPECIAL!
PRIME PERPS
Editor
Jim Douglas
Deputy editor
Garth Sumpter
Designer
Osmond Browne
Advertisement manager
James Owens
Sales executive
Alan Dykes
Ad production
Emma Ward
Marketing manager
Dean Barrett
Marketing executive
Sarah Ewing
Publisher
Graham Taylor
Managing director
Terry Pratt
Contributors
Chris Jenkins, John Cook, Steve Harmon, Pete Gerrard and last but BY NO MEANS least, Gary Redrup. Nice jeans, Gaz!
SOFTWARE
| | |
| --- | --- |
| JUDGE DREDD | Virgin |
| MIDNIGHT RESISTANCE | Ocean |
| RAD RAMP RACER | Mastertronic |
| HONG KONG PHOOEY | Hi-Tec |
| RUFF & REDDY | Hi-Tec |
| NIGHT HUNTER | Ubisoft |
| SKATEWARS | Ubisoft |
| SUPER TRUX | Encore |
| A QUESTION OF SPORT | Encore |
| SOCCER DIRECTOR | GTI |
| TURRICAN | Rainbow Arts |
| DESTINY MISSION | Williams Technology |
| VENDETTA | System 3 |
DOUBLEHITS TAPE 3
Overdose on Action! This month's tape has got more flying bullets per square inch than a small cave full of trigger happy gangsters armed with ricochet guns. There's TANK, a complete full-price Ocean game, a playable demo of MIDNIGHT RESISTANCE, and there's also a whole level of DESTINY MISSION, a thrill-filled blast.
FEATURES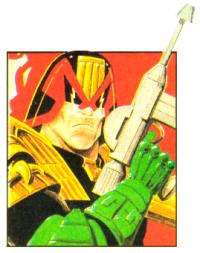 Judge Dredd Strip
The Unsmiling One stars in an action packed all-colour 6 page story from 2000AD. Brakkatazoom!
Solutions 3
Klax Cracked! Crack-down Downed (?) in the third gripping instalment of our exciting Tips series. Garthy the Sump dishes the dirties of tricks to help you through TO THE VERY END! Pull it out, fold in half and snip the top! Ta-daa!
Connect
Feel it tear! Hear it rip! Ooooh!
Smash Coupons
Tell It To Jim
Win Garth's Car!
The Write Stuff
The Sorceress
The Cartoon!
Coin Ops
Riding along on the crest of a wave and the sun is in the sky! Hydra looks like the skilly fantilliest coin-op of the month. Read all about it!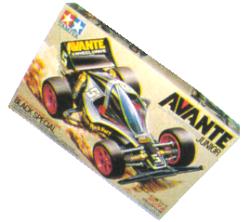 Check Out
Video! Cars! Smut! (well, alright ...) Books! All compiled by the fair hand of Chrissy Jenkins. This month's featured star is The Hunchback Hairball of L.A. Oh, and there's this simply darling little car ...