LAST MONTH'S PASSWORD: HELMET
This month's Great 8 Password Game is none other than Night Run. If you haven't heard of it before that's hardly surprising 'cos it's completely exclusive. It's the sequel to our first ever Prize Game, Ceasefire, and is an even bigger and better explorerama involving a plot to seek out and destroy a double agent. As expected, our adventure series StarShip Quest returns with the second part of the trilogy (last part next month). We have three life-saving utilities - Compressor, Spriter and the promised 128K version of the best Speccy art prog in the land, Icon Graphix. Sadly, we bring you the last of our series of Music Demos, but not to worry as it's just as corkingly hiptastic as the first four. Last but not least there's POKEMANIA and the new look Hacks Amazing. You won't find a better deal anywhere else!
Hacking Squad
I don't know how she does it! Despite the fact the Speccy software scene is getting smaller, Hannah Smith's Hacking Squad just gets bigger and bigger! This month's bulging bonanza contains over 40 different games - tipped, cheated and POKEd - with a Castle Master (recently reviewed as a re-release) special featuring a complete solution along with maps for all the levels and all the tips you could possibly ask for! So, get cheating ...
The Great Popeye Megapreview
Popeye is back as we told you last month. Well this month, although we couldn't get a full review of the game 'cos it wasn't completed at the time of going to press we do have an exclusive fully working demo of the game, so turn to the centre spread (always the best looking part of the mag) and check it out. We also take a look at Popeye's gaming history.
Coin Ops
All the best from Capcom, Neo Geo and IREM Corp. Courtesy of Gary Harrod and Electrocoin.
The Hobbit
On test.
Well, its nearly the end of the summer now, so it's almost safe to put away your ozone hole-beating factor 27 sun cream for another year. And whilst you all sit in the cool summer evenings, peeling layers of skin off your noses and pondering on the limitations of cosmetic science, just take a look at the crew who've spent the summer pumpin' iron and slapping on fake tan by the bucket load so that they can all make their fortunes in WWF ...
Alan Dykes : Editor
And in the blue corner, weighing in at a massive 220 bagels, it's Boss Man himself. Standing resplendent in his cop uniform and desperately trying to scare small children with his riot stick. Big Al actually tried to avoid his first fight after seeing himself in his gear. Mr Modesty, who even in front of his girlfriend, refuses to strip down to anything less than his Irish tweed all-in-ones and a pair of stout wellies, finally took to his first fight in full police riot gear, body armour and shield. Needless to say. he was an arresting sight.
Fave Games: 3D Pool, Tag Team Wrestling.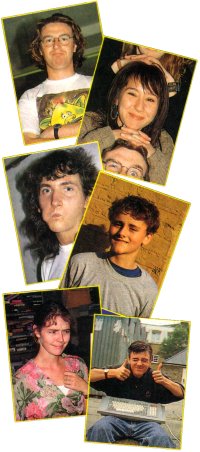 Steve Keen
Steve Keen - Preen Machine - spends so much time getting his hair right so that he can 'knock the chicks for six with just one of my flix', that he screamed blue murder until the Crew let him be Mr Perfect. That was until he had his first fight however. Steve didn't hear the starting bell because his hairdryer was too close to his ears and his tag-match opponents, the Dagenham Girl Pipers, snuck up on him, pinned him down and within three seconds had re-styled his famous locks into a beehive and destroyed his street cred forever. "They was all over me mahn," he was heard to sob as he was rushed to an emergency heavy rock hair stylist ...
Fave Games: Pro Tennis Tour, Match of the Day.
Yvette Nichols : Art Editor
Normally content to just sit and watch the guys make idiots of themselves, the mild-mannered Kiwi has taken up the WWF banner. Yes, the Million Dollar Woman has taken to working out using her box of colouring crayons, a crate of Steinlager and a life-size effigy of Rolf Harris. (Woooma, Dinko, Whooooma Whoom!) No-one's quite sure why she's worth a million dollars but after seeing what she can do to Rod after drinking a whole bottle of Steinlager, no-one wants to ask her either.
Tina Zanelli : Ad Manager
The diminutive Tina has relied upon speed and cunning in her short career in the ring. Standing a whole 5'2" in her stockings, Tina Be Bad is so distracting that by the time her opponents have realised that her stockings have a ladder in their leg, they have a foot in their face and its all over ... Although the most successful wrestler of the team, Tina doesn't do it for the money. "Well, I must admit that I do enjoy the showers best."
Fave Games: Pro Tennis Tour, Match of the Day.
Paul Anglin
Rowdy Roddy Piper is the toast of the fans. He's loud, he's brash, he's noisy. The fans love every decibel that he hollers. Unfortunately, the only WWF record that he's broken so far is that he's the first man to be attacked and gagged by members of his own tag team! Still, he was over the moon at the publicity and at the time said, "Rhett meh brevvve orr oiill smmerch yeeer pherrrace hin!"
Fave Games: Match of the Day, Sleepwalker.
Mark Richards
There's a new kid in town but don't let his meagre years fool you. What Sergeant Slaughter Richards lacks in height and hairy chest he makes up for with pure, unadulterated evil. In his first fight with Big Al Boss Man, he threw a giant ham and cheese bagel into the audience and Al rushed down after it. Of course, Boss man ate it within ten seconds but as Mark had garnished it with ground lead, poor Al couldn't lift himself into the ring and was counted out. Steve 'Mr Perfect' Keen was disqualified for refusing to get into the ring until Mark had put down his Black and Decker hair strimmer and the girls ... well, they thought that he looked so cute in his shorts that they refused to fight with him at all. Some guys have all the luck eh?