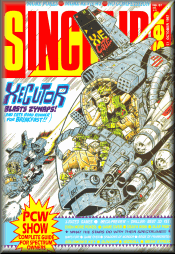 Issue 67
October 1987
Editor
David Kelly
Deputy editor
Graham Taylor
Staff writer
Jim Douglas
Staff writer
Tamara Howard
Art editor
Gareth Jones
Adventure help
Gordo Greatbelly
ZapChat
Jon Riglar
Helpline
Andrew Hewson
Contributors
Richard Price
Andy Moss
Gary Rook
Hardware correspondent
Rupert Goodwins
Advertisement manager
Louise Fanthorpe
Deputy advertisement manager
Mike Corr
Production assistant
Alison Morton
Publisher's secretary
Linda Everest
Subscriptions manager
Carl Dunne
Publisher
Terry Pratt
Sinclair User is published monthly by EMAP Business and Computer Publications
Cover illustration Jerry Paris
SOFTWARE
| | |
| --- | --- |
| ATHENA | Imagine |
| BACK TO THE FUTURE | Firebird |
| CLASSIX 1 | The Edge |
| CONFLICTS 1 | PSS |
| CONFLICTS 2 | PSS |
| CROM | Celerysoft |
| DEADRINGER | Reaktor |
| DOWN TO EARTH | Firebird |
| EVENING STAR | Hewson |
| FIFTH QUADRANT | Bubble Bus |
| FLUNKY | Piranha |
| FOOTBALL DIRECTOR | D&H |
| FRANKENSTEIN | CRL |
| GRAND PRIX SIMULATOR | Code Masters |
| GUNSHIP | Microprose |
| HEAD COACH | Addictive |
| HEIST 2012 | Firebird |
| HOW TO BE A COMPLETE BASTARD | Virgin |
| HYBRID | Reaktor |
| INTERNATIONAL KARATE | Endurance |
| JOE BLADE | Players |
| MEAN STREAK | Mirrorsoft |
| MERCENARY | Novagen |
| MISSION JUPITER | Code Masters |
| OCEAN CONQUEROR | Rack-It |
| PI R SQUARED | Mind Games |
| PLEXAR | Mastertronic |
| RAPID FIRE | Mastertronic |
| RENEGADE | Imagine |
| ROCKMAN | Alligata |
| SAMURAI TRILOGY | Gremlin |
| SHARD OF INOVAR | Bulldog |
| SLING-SHOT | Power House |
| SOFT AND CUDDLY | Power House |
| SOLOMON'S KEY | US Gold |
| STREAKER | Bulldog |
| SURVIVOR | US Gold |
| TANTALUS | Bug Byte |
| THE LOST RUBY | Wrightchoice |
| THREE COIN-OP CLASSICS | US Gold |
| WIZBALL | Ocean |
| WOLFAN | Bulldog |
| XECUTOR | Ace |
COVER SMASH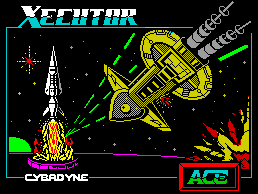 Better than Zynaps? Could well be. It's the first release from The Edge's new label ACE
PREVIEWS
With everyone coding like crazy in time for the PCW show we bring you Last Ninja, Super Sprint, Combat School, 720°, Ace II and more, more, more ...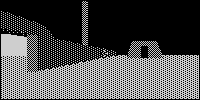 Mega Preview
An in-depth look at Driller, a game that features incredible landscaping in a totally new 3D graphics system that'll knock your socks off. Is this the most advanced Spectrum game so far?
NEW FEATURE
Poke City
Well you told us you wanted more Pokes. And you get your wish. Meet and greet Poke City and a bumper eight Pokes for you to type in. Check out the famous titles to dismember: Death Wish III, Slap Fight, Game Over parts 1 and 2 and more ...
FEATURES
PCW Show Guide
Our unique guide to the micro event of the year - check out our detailed survey of who's showing what for the Spectrum where. Indispensable, too is the SU "read all about all the great games and compos and freebies we've got and where to find us" guide
X-Rated Software
Games to make the easily shocked shocked. Horror, violence and bodily functions - we investigate them all. Including a special review of How to be a Complete, um, Thing ... Wotsit ... you know
Stars and their micros
We exclusively don't speak to any of the greatest stars in the entire world and ask them what they do with their Spectrums. The results will surprise you. Actually the fact that we did this feature at all surprised us ...
COMPETITIONS
Moonstrike
Incredible chance to win copies of Mirrorsoft's new scrollie plus a stunning (are you sure? - Ed) advance in home entertainment
REGULARS
Whodunwot
ZapChat
MapChat
Smash coupons
Compo winners
Code Talk
Charts
Letters
Background Noise
Poster No8
Hewson's Helpline
Gordo Greatbelly
Outlands
Surgery
Write Stuff
Next Month
Gremlin