Issue 94
January 1990
Jim "Keyring" Douglas

Like all Editors, Jim's absolutely loaded with cash and his car is a luxury status symbol that goes with his high-flying ulcer-inducing job editing Sinclair User. You know you've hit it big when Jim asks if the keys to his Nissan Micra will fit in your handbag!
Alison "Toot Toot" Skeat

Al drives the SU Bus! Every morning she honks the horn and collects the rest of the team and drives them off for another day at the office. Here she is, bright and early on a Monday morning, ready to get "on the case" (alright, so she's in the office on a Friday afternoon holding a plastic bin lid).
Osmond "Brake, Brake!" Brown

Oz, our new design wizard, is preparing for his test at the moment, and seems to be having trouble reversing around corners, but he firmly believes that in no time he'll be behind the wheel of his very own DeLorean Snowstorm.
Garth "Firestone" Sumpter

Always on hand to steady a sometimes rocky and panic-ridden ship, Garth soothes the worries of the team away with his stories of articulated lorry racing 'round Silverstone. "Which reminds me of the time I hit the chicane at 90 with no steering ..."
Adventure
The Sorceress
I've Got This Problem
Rupert Goodwins
Advertisement manager
James Owens
Senior sales
Martha Moloughney
Ad production
Emma Ward
Marketing manager
Dean Barrett
Marketing assistant
Sarah Ewing
Publisher
Terry Pratt
Cover Illustration Clive Goodyear
SOFTWARE
| | |
| --- | --- |
| CHASE HQ | Ocean |
| CRYSTAL CASTLES | Kixx |
| DOUBLE DRAGON II | Virgin Mastertronic |
| ELVEN WARRIOR | Players Premier |
| FANTASY WORLD DIZZY | Code Masters |
| FIST II | Mastertronic |
| FOOTBALLER OF THE YEAR 2 | Gremlin |
| GALAXY FORCE | Activision |
| GREGORY LOSES HIS CLOCK | Mastertronic |
| HARD DRIVIN' | Domark |
| JONAH BARRINGTON'S SQUASH | Mastertronic |
| LEISURE GENIUS COMPILATION | Leisure Genius |
| MOVING TARGET | Players Premier |
| OPERATION THUNDERBOLT | Ocean |
| PING PONG | Hit Squad |
| PUFFY'S SAGA | Ubisoft |
| SAIGON COMBAT | Players Premier |
| SHARK | Players Premier |
| SPEEDBOAT ASSASSIN | Mastertronic |
| SUPER WONDER BOY | Activision |
| THANATOS | Encore |
| THE GREAT ESCAPE | Hit Squad |
| TURBO OUTRUN | US Gold |
| WAR MACHINE | Players Premier |
| XENOPHOBE | Microstyle |
MEGATAPE 23
What have we in store this ish? A veritable hubcap of motoring stuff, that's what. On the A side you'll find Nightmare Rally in all its glory - while on the B side there's a full fabby level of Chase HQ for your delight - verrroooooom!
PREVIEWS
Newies getting the eagle-eye treatment this time around are Crackdown from US Gold, Thunderbolt and Chase HQ from Ocean.
FEATURES
Dirty Tricks Dept
Look what we've got for you this month. In the TIPS bit there's Hard Drivin', Continental Circus and Power Drift. In the MAPS bit there's a Myth map (exclusive to SU) as well as a Cauldron II and New Zealand Story map. And in the POKES bit we've got Power Drift, New Zealand Story, Sanxion and Tusker - what more can we say?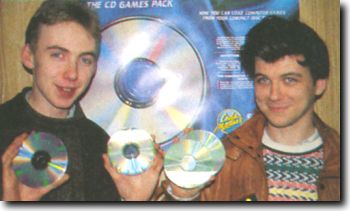 CD Thingy
Fancy storing ALL your games on one easy-to-load disk? Well, now you can in the shape of a CD disk from those mad chaps Code Masters.
SAM Special
Everything you wanted to know about the SAM Coupe but were afraid to ask - we give you the lowest of the low downs.
Blueprint
This month we go behind the scenes to find out just what went in to making that Gauntlet-type runaround-a-maze jobby, Crack Down from US Gold.
Ed For A Day
All golly gosh fun and jolly japes (hohum) as 10 lucky bleeders spent a day with the SU journos and found out just how grotty and discusto EMAP Towers really is. We've picked the best of the bunch's reviews.
COMPETITIONS
Win The Bean Machine
The Jelly Belly Jelly Bean Company have given us an ultra bloomin' great Bean Machine and it could be yours - just answer one divvy little question.
Win A Karaoke
I bet you don't even know what a Karaoke is do you? Find out how you can win this ingenious device.
Win A Mountain
Ooops, sorry, that should read win a Mountain Bike - gosh wow a brilliant skillo give away if ever there was. What do you have to do to win - just guess the rather easy mystery screen-shots - pah nuffink to you lot.
Win A Ferrari
We're not going to pretend that we're offering real Ferraris, because every other magazine says pathetic things like that don't they? They're remote controlled dooberrys, so you either want one or you don't, OK?
Win A Rather New Joystick
Never let it be said that SU give away piles of crap, 'cos we've got 20 beautiful Kempston sticks up for grabs in our special maze game - 'Cyril the Ninja Loony in the Maze of Doom'.
REGULARS
Megatape 23
Dirty Tricks Dept
Write Stuff
Tell It To Wayne
Charts
Smash Coupons
Blueprint
Coin-Ops
I've Got This Problem
Sorceress
Precinct 19
Compo Winners
Previews
Next Month
Printed by
Nene River Press
Typeset by Mr Douglas and Mr Sumpter at Jimmy's Setting Emporium
Distributed by
EMAP Frontline.
© Copyright 1989/90
Sinclair User
ISSN No. 0262-5458
No part of this magazine may be reproduced/transmitted, stored in a data retrieval system, etc. etc. or you'll go to gaol for ever.
We will, however, be giving a special prize to anyone who can reproduce this issue in the smallest possible form. Send entries to address above. Must be smaller than a cassette tape.