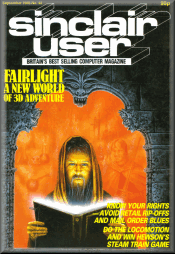 Issue 42
September 1985
EDITORIAL
Editor
Bill Scolding
Deputy editor
John Gilbert
Staff writers
Chris Bourne
Clare Edgeley
Designer
Craig Kennedy
Editorial secretary
Norisah Fenn
Publisher
Neil Wood
ADVERTISING
Advertising manager
Louise Fanthorpe
Deputy advertisement manager
Shahid Nizam
Advertisement sales executive
Kathy McLennan
Production assistant
Jim McClure
Advertisement secretary
Linda Everest
MAGAZINE SERVICES
Subscriptions Manager
Carl Dunne
Sinclair User is published monthly by EMAP Business and Computer Publications
Cover illustration Stuart Hughes, used by permission of Softek International.
SOFTWARE
TOP 30
Summer launches jockey for position
SPECTRUM SOFTWARE
An exclusive look at the 3D world of Fairlight, Frank Bruno floors all contenders, Action Biker comes a cropper and we review a classic Artist [two parts]
| | |
| --- | --- |
| | |
| Graphics magic from the Edge | All aboard for the Costa Packet |
QL SOFTWARE
English Software goes into Hyperdrive, while Hopper and QL Reversi simulate ZX-81 arcade oldies
HIT SQUAD
Gyron programmers Torus don't exactly suffer from an excess of modesty. Chris Bourne bends an ear
BUSINESS SOFTWARE
Mike Wright dips into some QL business programs, and becomes an Entrepreneur with Collins Soft
ADVENTURE
See Richard Price's holiday snaps of Terrormolinos, dabble with Magik in Red Moon, do battle in Warlord
FEATURES
KNOW YOUR RIGHTS
Essential reading for all Sinclair users. Wendie Pearson's guide tells you how to avoid buying a blown Spectrum or being ripped off by the crooks of the classified ad.
HARDWARE
HARDWARE WORLD
Typing text made easy with the Omni-Reader, interface your QL with Kempston, get to grips with the Stick. John Lambert is your guide
ENTRY POINT
In the concluding part of his beginners' series, John Gilbert takes a random look at the number generator
MACHINE CODE
Marcus Jeffrey develops picture routines which can be copied, merged or exchanged with the power of logic
HELPLINE
Print and beep with Andrew Hewson as he rummages about in the ROM
PROGRAMMING
PROGRAM PRINTOUT
Peddle your wares in Space Trader, or negotiate the levels of tricky Dead-eyed Dick. The die is cast in Top Notch, arcade action comes to the QL in Stuffed Mushrooms and the Spectrum gets a High Score utility
REGULARS
NEWS
SINCLAIR SIMON
ZX WORD
QL NEWS
LETTERS
ZAP CHAT
SINCLAIR SURGERY
ADVENTURE HELPLINE
COMPETITION
100 steam train games to be won
SOFTWARE DIRECTORY
SOFTWARE PUBLISHERS
NEXT MONTH
GREMLIN
If you would like to contribute to Sinclair User please send programs or articles to:
Sinclair User
EMAP Business and Computer Publications
London.
Original programs should be on cassette and articles should be typed. We cannot undertake to return them unless a stamped-addressed envelope is included.
We pay £20 for each program printed and £50 for star programs.
Typeset by
Saffron Graphics Ltd.
Printed by
Peterboro' Web
Distributed by
EMAP Publications Ltd.
© Copyright 1985
Sinclair User
ISSN No. 0262-5458