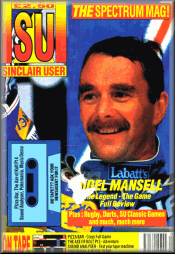 Issue 134
April 1993
Editor
Alan Dykes
Art editor
Sara Pruce
Coin ops editor
Ed Laurence
SU Crew
Mr Hacking Squad: Garth Sumpter
Mr Checkout: Steve Keen
Reviews: Tony Kaye
Historic Games: Mark Patterson
Reviews: Paul Davis
Smart Comments: Tom Guise
Mr Technical: Graham Mason aka Specman, Turbo, etc.
Adventure: Pete Gerrard and the Sorceress
Ad manager
Tina Zanelli
Ad production
Tina Gynn
Marketing
Product manager: Sarah Ewing
Marketing assistant: Fiona Malloch
Publisher
Mike Frey
Managing Director
Terry Pratt
SOFTWARE
BULLY'S SPORTING DARTS
Alternative
A load of old Bull and no mistake!
NIGEL MANSELL'S WORLD CHAMPIONSHIP
Gremlin
Drive like a maniac!
RBI BASEBALL
Hit Squad
Best baseball action available
TERMINATOR 2
Ocean
Big Arnie gets some action
SMASH 16
Code Masters
Gigantic Codies compilation
WORLD RUGBY
Zeppelin
Get tough with your national team
FUN 4
Well, although sadly this is SU's last ever issue, we've managed to squeeze an extra item onto the Fun 4 yet again. Another Music Demo hits your speakers and screens courtesy of Theo Develegas. It keeps some good company too alongside SU's wacky full game Pizza Bar, the excellent Axe of Kolt Part 4 (which finishes off this fine series of adventures), a tape sound Analyser to test your tape player's head and last but not least Pokemania. Enjoy.
FEATURES
Goodbye!
Eleven years of Sinclair User is about to come to an end ... Big Al remembers the past and says his goodbyes.
Hacking Squad
Garth Sumpter says goodbye with a cheerful nod in the direction of as many games as he could muster - to send you chuckling along on your merry hacking way.
SUper Games
Mr. Patterson, the man who inspired Eastenders takes you, yet again, to the not too distant past and reviews the rest of the best from the last few years. Part one of this SUper games guide was in last month's issue.
Coin Ops
Ed Laurence grabs you by the scruff of the neck and takes you for a top class, no holds barred ride through the world of current coin-op action. Check out the best bets for your arcade cash - or the worst.
REGULARS
Charts
Checkout
Sorceress
Tell It To Al
Suckup
Cartoon
Absolutely no part of this publication may be reproduced, stored in an electronic retrieval system or copied without the express written permission of the publisher. Sorry folks but this is it. Thanks for all your letters, all your support and all your compliments and complaints. Many, many thanks to Freda, without whom SU would have been frightfully boring. Well done Paul, Jim, Ken and the boys at Colourtech and all the people who have helped with this last issue. A final goodbye to Mark D. Richards who will, no doubt, be glad to see the back of us (NOT) and Roland Richardson who has broken the record for writing to a magazine. Au Revoir!