---
Credit where credit is due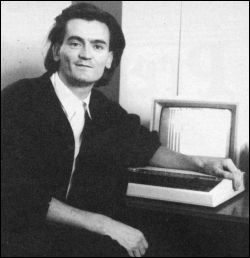 Professional wimp Feargal Sharkey manfully attempts to drum up some enthusiasm for Micronet. "I'd rather watch it than Coronation Street," was, alas, the best he could do.
THOSE OF you who've suffered from the notorious Catch 28 - or Camberley syndrome as it's known in the medical world - will be interested to hear that it works both ways. Not only does it take 28 days to receive goods from Sinclair, but it also takes Sinclair 28 days to sign a cheque for stuff it buys itself. And we all know what 28 days means ...
Fearless Freddy
So it's hats off to Freddy Vaccha of Digital Precision, who's been having a little spat with Slugger over whether letters of the alphabet - such as Q and L - constitute a proper trademark.
Freddy got his revenge when he received an order for 20 copies of his excellent QL Compiler. His reply was a model of its kind, beginning as it did with the words 'Since we only give credit to reputable companies ...
Gremlin reckons fellow sufferers owe Vaccha a Christmas card at the very least ...
Tudor Wallies
This month's tackiest freebie has to have been the mediaeval booze-up hosted by Mikro-Gen to launch Sir Fred. The lengthy banquet included entertainment from a fat man dressed as Henry VIII who spent much of the time making ribald jokes about a woman from What Micro? who only decided to go at the last minute and now wishes she hadn't.
The sight of Mikro-Gen supremo Mike 'Wally' Meek thumping the table to the strains of Wild Rover certainly got the stomach rumbling, and Gremlin supposes a good time was had by all.
It certainly beat the stale Bounty bar sent out with the press release for Three Weeks in Paradise, the latest Wally game. But what do you expect from the people who invented the original Bomber ...?
Vacant Commode
An altogether classier do was Activision's Little Computer People launch at Soho's Video Cafe. Self-confessed former Stoolball pro David Crane, who wrote the thing, explained how the little people are actually living inside Commode 64s, and all the program does is give them a house.
Commode users love this sort of thing, which makes no demands on either intellect or dexterity whatsoever. All you do is watch the little man go through his daily routine, and pretend Crane is a Cabbage Patch Kid in disguise ...
Teenage traumas
Talking of kids, Delta 4 seems to be undergoing an adolescent crisis at the moment. The success of the toned-down Bored of the Rings and heavily censored Robin of Sherlock under the Silversoft label has been causing ructions.
Virile and dynamic Fergus McNeil tells Gremlin he's sacked programmer Ian Willis after Ian demanded vast royalties for QL and BBC conversions, even though there's barely a byte laid down on tape.
"He smashed up Delta 4 equipment and made a murderous attack on Mr McNeill's life," says the Casanova of the lower sixth.
While we wait for further developments, Gremlin offers a crumpled flyer to the first reader who can decipher Fergus' message to the world hidden on Bored of the Rings. It explains a lot ...
End of a Legend?
What's happened to Legend? For the last couple of months we've heard nothing but boss John Peel's famous imitation of an answering machine.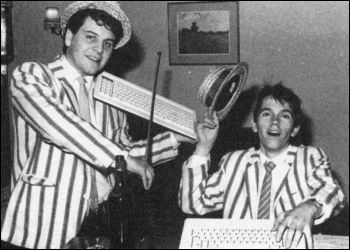 David White and Steve Smith of Saga prove they'll do anything for a quid as they attempt to raise money to pay off David's latest speeding fines.
Ace reporter 'Ligger' Edgeley managed to track the shy publisher of Valhalla and Komplex to his ex-directory lair after 45 minutes of hard bargaining with the telephone operators.
"No comment," revealed Peel, exclusively to Sinclair User.
Gremlin, on the other hand, can say with some authority that Peel has been touting his latest game, Komplex City, in the direction of any software house - budget or otherwise - willing to take it ...
Own goal
Baked bean promoter Yawn Computing (Gremlin, November) has produced another first in computer mag advertising.
The yawners have hired the services of Luther Blisset - the alleged Watford striker, whose vast knowledge of home computers is legendary - to promote their rag. "When it comes to software, I like to be first on the ball," says Luther.
We wait with bated breath for the latest Elton John single extolling the virtues of magazine publishing in Croydon - Sad Hacks Say Too Much ...
Think tank
Congratulations are due to Chris 'Lunchbreaks' Bourne for winning a bottle of Scotch from Ariolasoft - a prize dear to his pickled heart. Lunchbreaks, whose passion for boring strategy games is only matched by his passion for boring everybody else, achieved this by being the only person to beat designer David Bishop at his new game Think!
Among the hacks left standing was Jack Schofield, who writes a tedious weekly column about word-processing and other ... well, usually about word-processing, in the Guardian. One wonders what he was there for?
Well, he didn't get the Scotch, anyway ...
---
Sinclair User
January 1986