---
Love is never having to say ...
LAST YEAR'S Xmas jollities featured many strange happenings, but none stranger than editor Bill Scolding's verbal duffing up by two software heavies in Sinclair User's local watering hole.
The software house, which shall remain humourless, had taken umbrage at some recent Gremlin remarks which were, of course, all in the best possible taste. Seven plagues of solicitors were threatened unless apologies were immediately forthcoming.
Old incorruptible Scolding, drawing himself to his full height, and backed with all the weight of the freedom of the press, promptly grovelled and all was sweetness and light under the mistletoe once more.
"Your days are numbered, Gremlin!" growled Bill on his return. "Just watch it ..." Point taken.
The Bounty bar was stale, by the way, Mike ...
Sick Brides
Other jollities included the Grand EMAP Thrash, to which every Tom, Dick, Kevin and Bruce were invited. Those wonderful ladies from St Bride's, alas, never made it. Marianne Scarlett and Priscilla Langridge flew in one of those new-fangled aircraft thingies, which circled Heathrow for so long that Priscilla developed a crippling headache. "She was prostrate on the floor," explains Marianne.
Gremlin nevertheless managed to spend a fortifying lunch with the Games Mistresses the next day, where various alleged hangover cures were consumed with gusto. According to those formidable women, it's quite normal in Ireland to go 'on the beer'. Indeed, Gremlin understands it's a perfectly acceptable excuse for not turning up for work.
Our publishers, unfortunately, appear to have little or no interest in Irish folklore ...
Thumbs down
Mike Meek of Mikro-Gen has reason to be happy, with Sir Fred, Three Weeks in Paradise and Battle of the Planets all set to do well - though apparently poor sales of Unicorn caused at least one chain store to think twice about the latest from the House of Wally.
Meek is also inordinately pleased over the launch of Gladiator by Domark. It seems that programmer Mike Green first approached the Wallies with the game, but after some months Mikro-Gen kicked it into touch. "It's completely unplayable," chuckles Meek. "What you're looking at in Gladiator is a Mikro-Gen reject."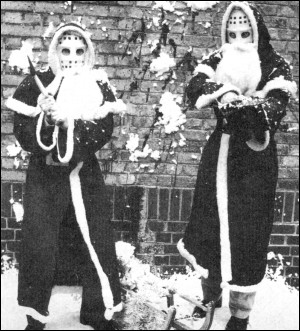 Happy bloody Christmas from Domark.
Well, Domark should be so lucky. Youthful Mark Strachan chirrups "It's the best thing we've released - far and away the best fighting simulation on the market." Is there any more old tape lying around on Mikro-Gen's cutting room floor? ponders Gremlin ...
Humbug
Domark has been going over the top in other ways during the festive season. Those unfortunate enough to be on speaking terms with Dominic, Mark, and ex-hack Dave Carlos, received the tasteful Chrissie card pictured left. Just consider yourselves lucky it's reproduced in black and white ...
Mark, however, has been having second thoughts about it. "Last night I saw Santa Clause - The Movie, and wept all the way through it." Hah! grunts Gremlin, so it really is as bad as the critics make out. "It's sweet, it's lovely," burbles Mark, "and it made me realise I was really a bit naughty to do Santa Claus with a chain saw and axe."
Sanity clause, there ain't no sanity clause, Gremlin mutters ...
Kissing Cousens
Brazen Backslapper of the Month Award goes to Rod Cousens and Electric Dreams for outrageous claims about Back to the Future.
Sylph-like Rodders says it's the first time there's been an on-screen kiss in a computer game. Anyone who's tried it on with Maid Marian in Robin of Sherlock will disagree about that, but even if you discount adventure games it's still not true. Gremlin distinctly recalls some rather yukky goings-on between the Fighting Warrior and the mummified princess on the final screen.
A grubby flyer is on offer to the reader who can produce the earliest computer animated lip-smacker. C'mon guys, where's your sense of romance?
Labour pains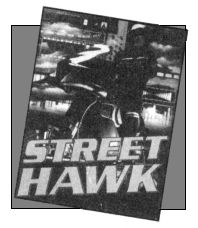 Scooby award winner.
Gremlin was more than a little disappointed to see Ocean's Rambo arriving only days before the magazine went to bed. Disappointed because he was intending to present a new award - the Rambo - given only to games of such quality that they were beyond praise. Indeed, games which are beyond criticism of any kind because nobody's ever seen them ... except in advertisements.
In the light of Elite's announcement about abandoning its revolutionary cartoon game, perhaps the award might be more usefully named the Scooby. So, here goes.
The Scooby Prize for announcing and advertising games 27 years before they actually appear goes to ... Well, there are so many, aren't there? In 1985 we waited for Knight Rider, Rambo of course, Neverending Story - that was a good four or five months in the telling - but there can only be one winner.
The coveted Scooby goes to Street Hawk, first advertised in this magazine in May. Accepting the award on behalf of Ocean magnate David Ward, Jennie Beattie has these words to say: "Don't talk to me about Street Hawk! Ocean is conscious of the problem. It's very embarrassing."
Other awards are as follows: Best supporting Scooby - Daley Thompson's Supertest. Best foreign Scooby - International Karate. Best Scooby - Frankie Goes to Hollywood. Nominations were also received for Mugsy's Revenge, Dr Who, Asterix ...
Look out for the birthday celebrations for Street Hawk. See you there, says Gremlin ...
---
Sinclair User
February 1986