---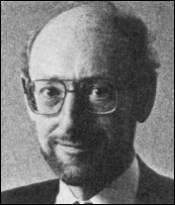 Sir Clive: "A completely silly and skewed result."
Micro survey slams Spectrum reliability
ONE IN four Spectrums are faulty, according to a recent survey on the reliability of home micros. The most reliable machines were the Electron and BBC, at five percent, and the Amstrad.
"A completely silly and skewed result" says Sir Clive Sinclair. "Acorn did it and they are biased because they are trying to get the figures they want."
The survey, commissioned by Acorn's advertising agency, was conducted over March-September when few computers were sold. The high Spectrum returns are seen as a product of the Christmas sales boom, during which, according to Sir Clive, Acorn did not sell many computers. Acorn machines therefore had fewer returns against sales during the survey period.
"He's got a point, but I don't think it stands up 100 percent" says Stephen Palmer, PR spokesman for Acorn. "Acorn volume sales over Christmas may have been a bit lower than Sinclair, but the same principles apply. It is difficult to justify 24 percent against five percent."
Sir Clive claims the true figure for faulty machines is nearer 13 percent with no faults discovered in more than 40 percent of those returned to Sinclair.
News from Micronet 800
MICRONET 800, the down-the-phone computer magazine, is playing host to a new user group specifically for Spectrum owners. Called the Spectrum User to User Group - SUTUG - the new club is organised around the exchange of member's software via the telephone system.
SUTUG was established by Michael Kent and Robert Garbutt who set up a directory of Micronet members willing to take part in the software exchange.
The communications program which makes this possible is available from Micronet as telesoftware - software sent down the phone-line - and allows users to send Basic and machine code programs at a speedy 1200 baud using the Spectrum VTX 5000 modem.
Co-ordinating SUTUG is Micronet's resident designer Anna Smith. "The software we use," she explains, "was written by OE Ltd, the people who make the Spectrum QL modems. But we're also very pleased about a new telesoftware program, available free from SUTUG, which lets Spectrum owners use their machines to edit Prestel pages."
Anna enthuses about a new program written by a SUTUG member which enables Spectrum users to make more use of Micronet's electronic mail facility.
"One of our member is a vicar, the Reverend Haywood, and he's produced a program which lets us compose electronic mail before we even pick up the phone. You can write up to 26 messages off-line and then dial into Micronet and dispatch them."
Sid Smith
news editor of Micronet 800
Frankie say buy Ocean
FRANKIE'S come back from Hollywood to teach your computer how to relax in a game which will be launched within the next few months.
A deal has been made between Ocean Software, Island Records and ZTT, the band's creative producers, to produce a Frankie Goes to Hollywood game for the Spectrum and the Commodore 64.
David Ward from Ocean says "The game interprets the Frankie Goes to Hollywood concept of life imitating art", - if that doesn't leave you any the wiser, he adds, "the impact of the name and the concept of Frankie Goes to Hollywood translates into a game - you could describe it as an animated strategy adventure played on several levels."
The revenue from the game will be split between the three companies involved in its production with royalties going to the band. The band will be doing their share by signing autographs and generally promoting the game.
Atari declares war
ATARI has cut the price of the 800XL micro to £129.99.
It is the second price cut in three months, and a clear indication from new Atari boss Jack Tramiel that the company intends to compete with much greater aggression than before.
"Our aim is to produce the highest quality machines at the best possible price" says Product Manager John Dean. "When we were part of Warner, Warner did not appreciate the quality of the product we had. The only thing we have in common with those days is the five letters of the name. The new price reflects that we will sell at whatever price we can."
Silica Shop, a major Atari dealer, recognises that the Sinclair name is hard to beat. "When parents come to buy a Christmas present, they have a name on the top of their list. But if people find Spectrums are in short supply then Atari will take a Sinclair sale."
Dean is more optimistic. "We can't expect to outsell Sinclair this Christmas, but in another two or three months we will be making ground. Our aim is to be the No 1 home computer manufacturer by October 1985."
Nationwide discounts
DISCOUNT software is the bait to be used by the Nationwide Building Society in an attempt to lure customers to their doors.
Aimed at the young investor, anyone who places £25 or more into a new or existing account will receive a token worth £3 off Spectrum software redeemable at any branch of W H Smith.
According to Moira Cook at the Nationwide, the company decided to base its promotion on computer software as, "nowadays, young peoples interests lie in computers".
The offer will be open until 30 March, 1985 on any piece of Spectrum software.
Traditional Xmas tales
ONCE AGAIN, demand at Christmas for Sinclair products, specifically the Spectrum+, was running ahead of production.
"We are getting adequate supplies but could do with more," says a spokesman for W H Smiths. She adds that although there were initial problems with loose keys on the new keyboard, the fault had now been rectified.
Independent stores are also experiencing supply problems. Mike West of Silica Shop says: "I don't think I've ever known a situation where a Sinclair product has been in surplus. You are left with an ecstatic feeling about the success of the product followed by the realisation that you haven't actually got any to sell."
A feature of computer sales at Christmas was the contraction in the season. Bill Nichols of Sinclair Research comments "This year people have been confident of obtaining what they want and have consequently waited until the last three weeks before buying." Sir Clive Sinclair admits there is a problem: "We are oversold. We can't supply as many as the stores want."
Sinclair Research insists that the shortage is not due to production problems. "We are producing the promised 200,000 Spectrums a month, and the problem with some of the early keyboards, which were also sent to reviewers, was solved a week after the launch," explains Nichols.
Sinclair was predicting sales of more than 400,000 computers in the last quarter of the year, and 175,000 UK sales in the last four weeks alone. The company has announced the creation of 150 new jobs at its Camberwell distribution centre to cope with increased demand. "We are selling a hell of a lot more than last year" comments Sir Clive.
Have car will pedal
THE PROMISED electric car from Sinclair will be 2ft 6in high by 6ft 6in long, pedal assisted, and powered by a washing machine motor.
The startling news has been confirmed by Sinclair Research, who say leaked reports are 95 per cent accurate.
The car, an open-topped three wheeler, is capable of speeds up to 15mph, but cannot accelerate from a standstill without the use of pedals.
Steering is by handlebars set under the thighs of the driver, and the whole machine has the appearance of a futuristic go-kart.
The price of the car, said to be available in Spring, has been set at the £400 mark.
Multi-user harmony
SPECTRUM owners may soon be able to link up with BBC and Commodore users through a new device from Wessex Microcomputers. The WSX Mk1 is an expansion unit designed to allow hardware to be transferred from one micro to another, and includes the industry standard IEEE-4188 connector which allows the transfer of data.
Wessex director Neil Beverley believes the product will be of particular interest to schools and industry, for the creation of networks and the free use of control systems such as robots.
"We have working models for the BBC, Amstrad and Tandy colour computers, and are finalising negotiations with a larger company for the production of a Sinclair interface. Our objective is to publish an industry standard within the first ten weeks of production," says Beverley.
With a launch planned for early 1985, Wessex believes the product, priced at under £300, will prove highly competitive against existing single-card systems which cannot be produced in quantity.
"We are also intending to sell to domestic users, as they begin to move away from games. For example, we are planning a product to combine Prestel and Teletext into one unit. We can give the purchaser an assurance that if he changes his micro from a Spectrum to a Commodore that 75 percent of his hardware will work."
Hock hacker
WINE-LOVERS will be fascinated by the arrival of the Spectrum in selected off-licences run by Peter Dominic. In order to help customers choose the wine to suit a particular meal, freelance chef Ian Hoare has written a program which links 220 dishes with 450 wines. Hoare wrote The Computer Cookbook for Bug-Byte, and his new program, Vino File, will be on sale at the off-licences as well as available for consultation.
"The wines I have chosen go well with the dishes selected," says Ian Hoare. "In certain cases the computer will recommend another drink where wine is completely inappropriate."
Of course, no true wine buff would be seen dead consulting a computer as to what he should buy. After all, nobody has yet produced a Spectrum interface to simulate the human nose.
Sprint fails tape
SPRINT, the high-speed tape recorder produced by Challenge Research, cannot cope with the new turbo-load and hyper-load software on the market, which has been recorded at a higher baud rate than normal.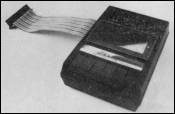 Director A P Johnson says he is concerned about the situation, which has arisen since the Sprint was designed. At that time none of the high-speed systems were being used by software companies.
"Whilst the Mark II Sprint allows simultaneous use of an audio cassette player for turbo-load programs, this is not acceptable to customers who have paid nearly £70.00," says Johnson. "We are currently looking at several systems to overcome the problem."
In the meantime, the following software is known to be incompatible with the Sprint; Strangeloop, Sherlock, the new MikroGen range including Pyjamarama, and all recent Ultimate games.
Challenge Research has also undertaken to give "serious consideration" to providing information on compatibility in future advertisements for the Sprint.
Have Spectrum, will travel
Two new machines are being planned by Sinclair Research.
The most innovative is a portable version of the Spectrum which will boast in-built microdrive, 'proper' keyboard and flat screen display. The portable is the pet project of Sir Clive Sinclair who sees it as a move away from the games market which has been supported by its little brother. He admits: "It's not yet had the button pushed because we're still doing some work on the display".
The QL may also be joined by a big brother. The upgraded QL, which should cost £500, is likely to contain the Psion packages on inbuilt ROM which will mean that the microdrives can be used to store data only and each of the packages can be switched in at the push of a button thus reducing loading times.
An upgrade will be offered to former QL customers who will then have the advantages of the ROMs. Sinclair Research is aware of the problems that have been experienced with microdrives but strenuously denies that a new QL would be launched because of the business community's lack of faith in the device.
UK gets back on the Gold standard
UK GOLD, a new software company, is to bring a Seal of Approval to British Software.
Launched in January and masterminded by Geoff Brown from Centresoft, the company is approaching software houses with the aim of marketing and distributing their games.
With the present climate in the software industry, many companies have realised that they cannot afford to spend vast sums on marketing a product. At the same time, they are also finding it difficult to get their products accepted for distribution.
"Many companies are producing good games which have got lost in the rush of Christmas releases", says Brown.
When a game is taken on, the software company will be paid a fixed price for every game sold with UK Gold taking care of the advertising, packaging and distribution.
Each game will have the UK Gold seal of approval on the cassette cover but the company originating the game will maintain its corporate identity.
The plot thickens
THE PLOTS of best-selling novels are to be used in a series of adventure and strategy games planned by Hutchinson publications.
Doug Fox, general manager of Hutchinson Computer Publishing, says: "Hutchinson holds the book rights to a lot of big name authors and their use in software publishing is an obvious avenue for exploration."
The company already produces two Lonewolf games, from the books by Joe Dever and Gary Chalk.
Its latest project is The Fourth Protocol - The Game, from the book by Frederick Forsyth. It is an adventure game which uses the latest in graphics techniques. Hutchinson is also considering other authors for the software treatment. Its shortlist includes Len Deighton, Gary Jennings and Ruth Rendell.
---
Sinclair User
February 1985