---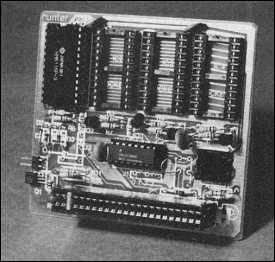 Hunter Products battery-backed RAM board
U.S. firm aids fact storage
HUNTER PRODUCTS, an American firm, has produced a battery-backed RAM board which can be moved about in the memory of a ZX-81 to any 8K section. The board is available as a kit and is very easy to build from the detailed instructions.
The lithium battery included means that the 6116 RAM chips keep the program even when you switch-off the machine, just like a ROM. That means that machine code routines and even Basic can be stored in the onboard RAM, to be recalled at any time without having to load them from tape.
A simple 2K RAM is provided. ROMs and RAM can be mixed on the board but that involves some cutting of tracks. One problem is that the board cannot decode the last address line A15.
One advantage is that you can replace the 8K ROM with a battery-backed copy and then add your own commands or correct the mistakes in the ROM.
The kit costs £19.95 inc. VAT from Hunter Electronics, Devon. That is a postal address as the company is in the U.S.
The complete expansion unit
DCP INTERSPEC pack is a combination of several other packs produced by the same firm into one box which fits the ZX-81 or the Spectrum. It contains an 8-bit input and output port, four relay-isolated outputs rated at 24V-lamp, four switch inputs - for joysticks, thermostats - and an analogue-to-digital converter with eight channels. That is an appreciable amount in a box only 4½in. long by 3in. wide and 2in. tall.
The Interspec has an expansion bus at the back which provides the data, read and write control signals, plus two device-select pins to add to your own interfaces. All are fully-decoded, to the limits allowed on eight address lines, and work very well. DCP Micro Developments Ltd. Norwich.
Easier Reader
BRANDON PRODUCTS stocks the easy reader computer stand for holding magazines and books. The metal stand is very stable and tilts back a magazine at an angle for easy viewing. The magazine is held by a large clip and there are extension arms on both top and right-hand side for large pages. It is very useful for copying-in programs; it folds flat for storage.
Contact Brandon Products, Salisbury, Wilts. Cost is £14.95 inc. VAT and postage. Brandon also has a range of T shirts and sweat shirts with ZX-81 and Spectrum logos for £3.25 and £6.99 respectively.
Rosetta award in second year
THE SECOND annual Rosetta Stone Award will be presented sometime in April by Mindware Inc for outstanding intellectual achievement on a ZX machine. The award was presented last year to Dr Ian Logan for his work on the ZX-81 ROM. The award is worth $200 and one year's free subscription to an American computer journal of the winner's choice.
The winner is also presented with a replica of The Rosetta Stone.
Nominations are being taken at present and the judging will be done by a panel of representatives of American and British magazines. Nominations should be sent as soon as possible to Mindware Inc, MA, U.S.A.
Joystick for all machines
AGF HARDWARE has produced a joystick interface which fits on the expansion port of a ZX-81 or Spectrum and imitates the keyboard. Both versions simulate the cursor keys and the 0 key on Joystick 1 and keys T-Y-U-I-P on Joystick two.
There is no soldering to do as the board is plugged into the expansion port and any other devices plug in after it. The joystick is very easy to use and it speeds games enormously. The other advantage is that while it is enabled - via a switch - the rest of the keyboard is inoperable, thus preventing errors. Several programs already work with the joysticks though some require the disabling of the joystick while speeds are chosen. The only disadvantage is the cheap edge connector and the fact that you cannot select which keys are simulated - that would allow an arcade game to be played.
Joystick interface costs £15.96, Joystick £7.54 inc. VAT, from AGF Hardware, Bognor Regis, West Sussex. Interfaces are accompanied by a free cassette of demonstration programs and instructions how to alter your own.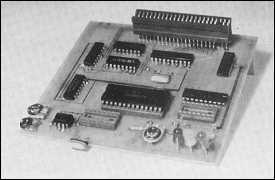 University Computers' analogue port
University analogue port
AN ANALOGUE port from University Computers is a memory-mapped device and is designed to be used by the ZX-81 Basic instructions PEEK and POKE. It is decoded into 64 locations just below the start of Basic RAM - 15488-15552.
The first eight locations are used as an eight-channel analogue input port and digital eight-bit output port. That is an unusual combination and, together with the manual, it can provide a complete demonstration unit for schools.
The board is despatched without a box but with an expansion connector at the back for plugging in the 16K RAM pack. Three LEDs are also provided on the board to test the digital port, as is a light sensor to check the analogue input. There is also an amplifier so that voltages in the millivolt range can be measured.
A full circuit diagram is provided and the manual takes you through a very easy course on how to use the port. The same firm can also supply various sensors for heat, light, sound and gas to fit on to the board. It can also supply various relays up to 25 amp 250V for control applications.
A very good teaching tool at £39.95 inc. VAT and postage from University Computers, Cambridge.
---
Sinclair User
February 1983