---
THERE ARE no plans to launch the 128K Spectrum in Britain this year but Sinclair Research is pleased with the publicity the machine has had from the British press.
Eileen Counihan, spokeswoman for the company, says: "We are quite pleased with the British press. They have at least got the point across that there won't be a 128K in Britain this year. We are not giving any more details and don't want to announce anything until plans are more definite".
British software houses are already being enticed by Sinclair to write for the Spanish market but they have been sworn to secrecy. David Ward of Ocean would say nothing of his plans for the



'It is clear
that they
wanted to sell
off the Spectrum
Plus backlog
before launching
the 128
in Britain'
128 but agreed that events are overtaking Sinclair. "I'm not allowed to say anything about our relationship with Sinclair. It is clear that they wanted to sell off their Spectrum Plus backlog before launching the 128 in Britain. The Spectrum Plus is selling faster than anyone expected. Dixons must be well through the first part of their £10 million order by now. The machines are flying out of the doors".

Dr Tim Langdell, managing director of The Edge, the company which has recently brought out Fairlight, is being similarly tight-lipped. "We have signed a non-disclosure contract with Sinclair. It would seem logical, however, that British software houses are being asked to provide products for the Spanish machine. It's no secret that there are only a couple of software houses in Spain. Britain has been the major source of software in Europe for some time."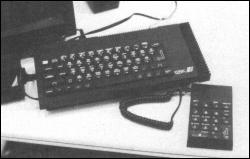 We did manage to catch one software house before they were muzzled by Sinclair. Paul Denial, marketing director of Mikro-Gen, says that his company has been approached and that consultative meetings are taking place. "We have had the memory map diagrams and have been promised a development machine, but that hasn't materialised yet. We have been looking into the possibility of adapting our Mikro-Plus games system to the machine. We are looking at the memory maps and there doesn't seem to be a problem."
Denial hopes that the 128K will soon be on sale in countries such as France. "The Spectrum market is still small in France, mainly because it has a different TV system to that of Britain. If you want to run a Spectrum over there you have to buy an interface which costs £80."
Meanwhile, AB Electronics, manufacturer of the Spectrum Plus, has denied reports that it has tooled up for production of the 128.
The company stresses that it has received no orders from Sinclair Research although there are indications that the situation may change in the near future.
Sinclair calls in the receivers
THE C5 HAS survived despite the collapse of TPD, the company which controlled Sir Clive Sinclair's electric car industry.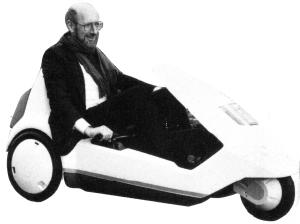 Clive and C5 in happier days
The business has been plagued by misfortune. In August the C5 assembly line at the Hoover plant in Merthyr Tydfil was closed because, the company claimed, Sir Clive owed £1.5 million for work already completed. That problem was resolved but, because of the high stocks of C5 still available, there are no plans to restart production.
Eileen Counihan, a spokeswoman for Sinclair Research, says: "The name of the electric car company was recently changed from Sinclair Vehicles Ltd to TPD. Although that has been wound up, Sinclair Vehicles Ltd will deal with orders."
TPD was put into the hands of receivers David Sapte and Anthony Locke of Begbies, with debts of £700,000 to 110 suppliers. Counihan says: "Sir Clive's investment in the company was £7 million. It was put into receivership to ensure the future of electric transport. Sinclair Vehicles Sales Ltd will continue to take orders from Britain and abroad."
The C5 has gained more favour abroad than in Britain, according to Sinclair, because of antipathy towards it from the press. Research and development is still continuing although the launches of the C10 and C15 have been delayed.
The C10 is planned as an enclosed two-seater vehicle with a range of 40 miles; the C15 has a similar range but is a four-seater. Sinclair has revealed that development is fairly advanced for both models and that the C15 has already been tested in a wind tunnel.
THE FIRST World Computer Surfing Championships were held at Rossnowlagh, County Donegal, Eire at the beginning of October.
The event was organised by the Irish software house, New Concepts, to tie in with the launch of its revolutionary game, Surfchamp, which uses a miniature surfboard placed over the Spectrum keys to simulate the action of surfing. The game is previewed in Software Scene this month.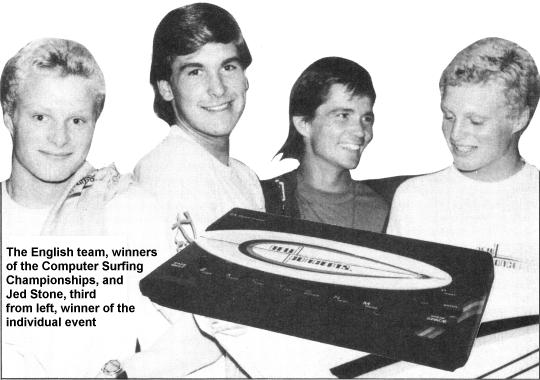 The competition coincided with the European Surfing Championships at Rossnowlagh, in which 160 surfers participated. Fortunately for New Concepts, County Donegal experienced exceptionally calm seas during the championships, and observers were treated to the unusual sight of dozens of bronzed blond beach boys fighting for a go on the computer as an alternative to the real thing.
The computer contest was won by Jed Stone, the English surfing champion, with a score of 2121. The English team also won the team event.
Norman McMillan, managing director of New Concepts, describes Surfchamp as "the first accurate simulation of sport" and has plans for skiing and sailing simulations which further develop the concept of original keyboard overlays.
Surfchamp received a unanimous thumbs-up from the surfers and whole-hearted approval from officials, including Rod Brooks, president of the Australian Surfing Association, and Reg Prytherch, president of the International Surfing Association. All that remains is for New Concepts to convince the fickle public that Surfchamp is an exciting absorbing departure in software.
Hardware prices cut by Saga
A DISCOUNT of £10 on the Kempston Centronics E printer interface is available to purchasers of the LTR-1 letter quality printer from Saga Systems.
The offer is available only through Saga Systems. Christopher Smith, sales manager of the company, says: "With the LTR-1 printer costing £119.95, Spectrum owners can obtain letter quality print at prices previously undreamed of."
Saga has also cut the price of its Emperor keyboard by £10 to £39.95. The move comes with the launch of the Saga 3 Elite Keyboard. David White, managing director of Saga Systems, comments: "With our new Elite keyboard and the Saga 2 Profile we can provide keyboards for the Spectrum covering a wide price range and satisfying most demands."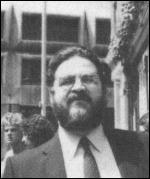 Johnston: 'usual crowd'
Christmas Microfair venue
THE CHRISTMAS ZX Microfair will be held on December 14 at the Royal Horticultural Halls, near St. James's Park tube station in London. The doors will be open between 10am and 6pm.
Mike Johnston, organiser of the show, says: "We will have the usual crowd in and it will be about as large as the last one. There will, of course, be a lot of new QL stuff around and I hope that we will see some more QL owners there."
New Sinclair micro - the plot thickens
REPORTS of a new Sinclair 1Mb 16-bit micro, which appeared in a recent issue of Your Computer, have been firmly denied by Sinclair Research. The alleged machine is said to be



'We're a bit
worried about
the way the
story has been
presented, with
made-up drawings
- it's completely
fabricated'
called Enigma, and would incorporate colour monitor, twin 3.5in disk drives, one megabyte of RAM and use the GEM operating system.

"It's conjecture, and bears no relation to any fact", says Sinclair Research spokeswoman Eileen Counihan. "We're a bit worried about the way the story has been presented, with made-up drawings - it's completely fabricated."

Sinclair Research makes no secret of the fact that it has been holding discussions with Digital Research about transferring GEM to the QL, or a QL-based machine, but dismisses the present conjectures. The company is also angry at suggestions that the alleged information was leaked.

Your Computer's assistant editor Meirion Jones stands by the story. It is based on information from inside Sinclair," he says. "A number of people are very annoyed with what's been happening to them there, and are leaking information. I don't see how Sinclair Research can deny the core points made in the story."

The Enigma is rapidly turning into a full-blown mystery.

BRITISH TELECOM has bought Beyond Software, the company which leapt to fame with Lords of Midnight and, recently, Superman.

The company was sold by EMAP Business and Computer publications, the publisher of Sinclair User, for an undisclosed six figure sum. Bill Delaney, managing director of Beyond says: "We have no qualms about going to BT and are happy that they've taken us on. There won't be any significant changes in Beyond. We will continue with our planned range of products."

Although Beyond has just launched its Christmas range, one of its products, the third in the Lords of Midnight trilogy, is missing. Eye of the Moon is unlikely to be launched until late spring, next year. Clive Bailey, marketing manager of Beyond, says: "The author, Mike Singleton, is way behind with another game, Quake Minus One."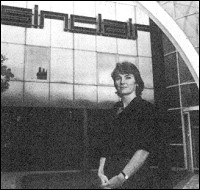 Maguire: 'tremendous'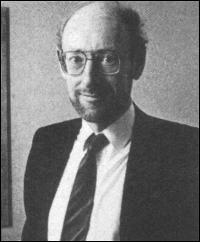 Sinclair: euphoric
Sinclair knocks all competition for six
SINCLAIR RESEARCH is selling twice as many computers as Acorn and Commodore put together, according to a recent survey by Audits of Great Britain.
Its market share for the four weeks ending September 7 was 56.8 per cent, which is a 20 per cent rise on the last figures published. The bulk of the sales is made up by the Spectrum Plus. The QL lags behind with less than six per cent of sales, followed by other products, such as Sinclair Research peripherals and software, at just half a per cent.



'The QL market
share is also
tremendous and
backs our
decision to
reposition the QL
at the new price'
Although the Spectrum Plus is top of the league, the QL has made the most dramatic leap in sales. The machine's market share has jumped by just under five per cent after only one week at the new £199 price.
Alison Maguire, marketing manager for Sinclair, says: "These figures, like the latest research from MINTEL, show that far from turning its back on home computers the public is buying almost as many as it was last year.
"Of course the peak buying season is not yet fully under way but AGB's data supports what we have already said, that Sinclair products are what the public want to buy.
"The QL market share is also tremendous and backs our decision to reposition the QL at the new price."
Despite the euphoria from Sinclair, some of the computer manufacturers mentioned in the survey, such as Amstrad, have dismissed the figures as non-representative. It is easy to see why Amstrad, which got a seven per cent slice of the cake, is upset. The poll covered 57,000 units and was taken from such high street stores as Dixons, Laskys, Rumbelows and John Lewis. It did not include Boots and WH Smith.
A DRAWING package based upon the one used to create the graphics of QL Chess and Match Point has been launched by Psion.
Q Draw is used to produce low or high resolution graphics using pens of varying thickness together with lines and shapes which can be filled with colour. Drivers for several popular mono and colour printers have been included so that a permanent record of artwork can be kept.
David Frodsham, marketing manager for Psion says: "Q Draw started life as one of the many powerful software tools written for Psion's own use, and made possible the complex screens for QL Chess and Match Point. It was quickly recognised as an invaluable program for screen drawing and design work, which is why we have released it."
---
Sinclair User
December 1985