---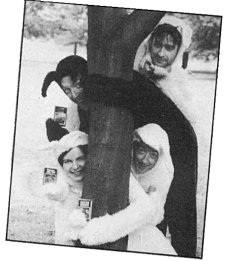 Nick Alexander and other political Virgins burying unsold Rabbit games while masquerading as Alliance by-election candidates.
GREMLIN bids a fond if belated farewell to wee Craig Kennedy, the demented celt who's been designing Sinclair User for the last 20 months or so. His exaggerated contributions to Slugger's anatomy will be sadly missed. Rat fancier Craig's seat is filled by Gareth Jones, another demented celt. Is this wise, asks Gremlin ...
Bloody Chambers
Craig has since joined Computer and Vegetable Games, and was promptly roped in for a pitched battle with Clement 'sex symbol' Chambers and his gang at CRL. Our Clem challenged the ageing comic to one of those 'military' games which seem to be all the rage in yuppieland where teams of young execs shoot yellow paint capsules at each other.
Citations go to Meat and 2 Veg editor Tim 'Spaniel eyes' Metcalfe, who now earns the briefer soubriquet 'repellent' for the way the bullets kept bouncing of his hairy chest ...
Young and beautiful
What the repellent Metcalfe probably needs is the Hisoft Organically Grown Wholefood Expert System. "Are you another overweight, bad tempered journalist living on junk food, black coffee and 30 a day?" asks Hisoft. Thirty a day? You must be joking! Still, it grabbed Gremlin by the fur on his tongue ...
Normal people can use the program to discover how to cure their headaches, night-blindness and impotence.
It's wonderful to see small companies like Hisoft bringing the sort of care and attention to Gremlin's personal problems which the Ward Empire has brought to international relations with Raid over Moscow and Rambo ...

Mirrorsoft serfs attempt to give a balloon ride to the winners of the Dynamite Dan competition. If only they'd brought along Paul 'Hermit' Duffy with his inexhaustible supply of hot air ...
Artistic licence
The battle of the paintpots is hotting up. First came Tim Langdell with The Artist. That was followed hotly by OCP's Art Studio.
Now we discover that OCP is flogging the rights to Art Studio to youthful Herbie Wright at Firebird. Can this be, ponders Gremlin, anything to do with Langdell's threatened intention to fight back with The Artist II?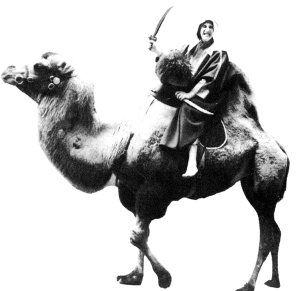 FIGHTING WARRIOR Stephen Cargill returning to Melbourne House after popping out to collect boss Geoff Heath's new toupee from the launderette.
Beyond the grave
Buzby's bulging chequebook has also been hard at work buying up Beyond. But do Firebird's masters realise what they're in for? Beyond's Clive 'toad-thing' Bailey has a nasty little sideline of his own in writing fantasy gamebooks.
The Forbidden Gateway series is a saga of such occult vileness that one wonders what goes on in Clive's mind. Worst of all are the bogies, which Clive says are Scottish, and suck out your life-force. Through the nose, presumes Gremlin. Or is it an elaborate satire on the hellish boardroom rituals at BT ...
Yesterday's news
If micro magazines form one big happy family, Your Computer is the old codger in the corner with senile dementia. Its latest wheeze consists of plastering 'Scoop' in big letters all over its November Spectrum 128 'review'. Close inspection of the copy reveals it all comes from 'our friends at MicroHobby', a Spanish weekly micro rag.
Chris 'lunchbreaks' Bourne, who endured a week of solid boozing on the Costa Brava to bring you the story last month, before the YC 'scoop', is understandably miffed. His impersonation of a drowned rat at the Barcelona launch was so convincing as to persuade Investronica personnel to cough up all the technical details just to get him off their stand - one of the great pieces of investigative hackwork of our time. Yawn Computing didn't even mention the RAM discs.
"Utter wallies," growls Lunchbreaks into his early morning vodka. "They should stick to promoting baked beans ...
Dense foliage
Rampant paranoia seems to be behind the latest press release from Knightsoft. The company wins the Brazen Backslappers of the Month Award for its hyping of Jungle Fantasy.
"The first program the USA will try to emulate," it says, and claims it will make the US software industry obsolescent.
"It is an adventure it is graphical and it is animated," says Knightsoft, with breathless punctuation. "That is all we can reveal."
Further investigation uncovers a tale of cannibals, man-killing gorillas, king corbas (sic) and prehistoric terradactyles (ditto).
Knightsoft has inveigled some clapped-out new wave band called Bamm-Boo to write music for it. "Program sales in excess of one million are expected across the world."
Come back Haresoft, all is forgiven ...
---
Sinclair User
December 1985