Rating system causes comment
WHERE is our friend Gilbert? Has he retired? Has he been sacked? Then work out a Chris or even Clare factor.
Without Gilbert, when I want to buy a game, I must go through every Sinclair User I own, searching for a review. Previously I could safely buy a game sure it was worth what I spent on it.
Please return that amazing game directory in the back of our trusty Sinclair User, I beg of you.
Steve Griffin
Never fear. An updated Software Directory will be returning as soon as we have space for it.
I AM glad to see that your games ratings have changed. I thought the Gilbert factor was totally unreliable. I cannot understand why Technician Ted only got seven, while Horace goes Skiing, a totally boring game with no variation, got an eight.
David Gee
Contempt for letters pirate
I AM WRITING to voice my thoughts on the piracy of articles. The offender is Daniel Rose, who had a letter published in Zap Chat - Sinclair User, June - giving infinite lives for Alien 8.
The pokes, and the complex machine code program were lifted from the May issue of Your Spectrum.
Daniel Rose has opened himself up, not to the acclaim of the readership of Sinclair User, but rather to their contempt for stealing the article.
I hope you're listening, Daniel Mud! And to anyone who has discovered something of interest, send it for publication. There are enough ideas to support the computing press, without the need for recycling.
Malcolm Paknadel
Games playing only a trend?
GAMES are an aspect of home computing but don't let the tail wag the dog.
Games playing among my acquaintances tends to be short-lived, they either become interested in developing their computer knowledge or they lose their interest in computers.
Games may be selling computer mags at the moment but don't forget tastes can be volatile.
John Taylor
History is lost in space
GALACTIC warfare interspersed with a smattering of history - that was my impression when I read your review of Starion - June Sinclair User.
What history there may or may not be in the game I shall never know.
I would like to advise your readers that unless you have the razor sharp reactions of a Wild Bill Hickok, Starion is a rip-off, and its historical element will remain a closed book for ever.
J W Ewart
A plea for missing issues
A FEW months ago I got the urge to complete my collection of Sinclair User. I've gathered that issues one to eight are not available.

I am wondering if someone out there would like to sell those back numbers.

E van Wouwe
Captured in record time
I BOUGHT Shadowfire on May 14 and completed it in two hours and 10 minutes.
The only way you can complete it is by killing and capturing all 43 people on the ship.
I have just read June's Sinclair User and your review said it was hard!
P M Davies
Learning game nukes schools
FURTHER to your review of Worldwise: Nuclear Weapons in the June issue of Sinclair User, might I point out that Worldwise can be purchased from us at the Richardson Institute for Conflict and Peace Research.
I REALISE there is concern over program piracy using school equipment, but surely the implied threat in your Worldwise: Nuclear Weapons review is taking things too far: "a study of nuclear weapons around the world aimed at secondary schools."
Ian Rhodes
Quill cheats on adventures
IF YOU save your position in a Quilled adventure and then load it into another Quilled adventure, when asked 'what next?' you jump to a position near the end of the game with a score of 70 or 80 percent.
Clive Parsons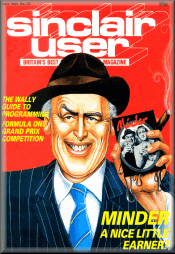 Cover-up job on Arthur
I HAD to laugh when I read A Wilson's letter in the June issue about your covers.
Just 10 minutes earlier I had stood in my newsagents desperately trying to conceal the front cover picture of Arthur Daley!
Christopher Robinson
Outrage over complex game
LAST NIGHT I spent three hours addicted to Komplex. I bought Sinclair User this morning - great, Komplex reviewed! Where's the Classic sign? Two stars?
Come off it, this game is fabulously addictive - it's the best game I have. You say the graphics are 'basic and wireframe', those on Starion 'superb 3D', but they are both similar effects.
A Crash reader (Samuel Best-Shaw)
Hah! A Crash reader - I might have guessed. Ed.
Jack receives turkey award
I READ your magazine frequently and think the game reviews are excellent and the screen-shots are sharp and clear.
My turkeys of the month - Ghostbusters from Activision, Road Racer from Thorn EMI and Jack and the Beanstalk from Thor.
Jeremy Bye