---
Whatever became of the Imagine team? Chris Bourne meets the folk who aim to put the Mersey back on the map
Once upon a time there were six happy Imagine programmers working their guts out on the legendary mega-game Bandersnatch up in Liverpool.
There was Ian Weatherburn, the games fanatic.
There was John Gibson, the ace programmer.
There were Steve Cain and Ally Noble and Karen Davies, the artists.
There was Kenny Everrett, no relation.
And there was a character at the top, where all the hype and the Ferraris and the duff cheques whirled about in a dust storm of vituperation and desperate attempts to keep going just another month, just another week, and his name was Dave Lawson.
"Do you want to know what the brief was for Bandersnatch?" asks Steve Cain. He's going to tell us anyway. "Dave Lawson came to us and said 'You've got four weeks to produce the best game graphics the world has ever seen'. That was all. We took four months and it still wasn't finished."
Then Imagine went bust, and the Bandersnatch team was out of a job, along with dozens of others who gave their soul for the most spectacular, romantic and, ultimately, sordid software company this country is ever likely to see. Dave Lawson and Ian Hetherington, both directors, wanted to keep the Bandersnatch team. They said they could get money in America.
Steve and Ian Weatherburn thought differently. "They told us the market in the UK was dead, you wouldn't get more than £5000 for a game tops, even if it was a number one."
They made a few phone calls and soon found out that the market was very much alive. "We talked to Bill Delaney at Beyond Software for half an hour and after that we were Beyond's men."
The idea was that Steve and Ian would set up a new company, Denton Designs, to write games for other software houses. For Steve, the attraction of Beyond had a lot to do with their products. "They had Lords of Midnight. Sometimes you see things by other people and you say 'I wish I'd done that'. Well, we thought we could produce things like that without having people of the calibre of Bruce Everiss around to cock it up for us."
Steve was anxious to include the other members of the team in the new deals. He'd been to college with Ally and Karen, and didn't want to see his friends sink without trace. The trouble was that most of them still wanted to believe in Dave Lawson. Then John and Kenny were served with writs along with Steve, so they joined up. After that, Ally and Karen came in.
"Beyond agreed to take two games from us, fund our development and premises. They wanted us badly but weren't prepared to take an almighty risk." Meanwhile Ocean was getting in on the act. The Denton team was turning into a hot property.
"All of a sudden up pops Steve Blower. He used to be at Imagine too, but he joined Ocean. Had we finished Bandersnatch? As far as we were concerned we were tied up with Beyond, and Bandersnatch would never see the light of day. But we met Ward, nevertheless."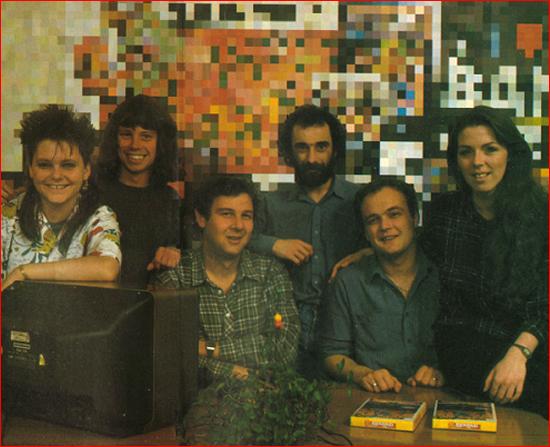 The many faces of Denton: Ally Noble, John Heap, Dave Colclough, John Gibson, Steve Cain, Karen Davies.
David Ward, chairman of Ocean, told them not to worry about Bandersnatch. "Write a different game," he said. "Write one for me and I'll give you a contract for three and buy your old equipment from the receiver at Imagine." So Denton Designs signed up with Ocean as well and wrote Gift from the Gods. "It did OK, about 25,000 copies," says Steve. The game was designed in the main by John Gibson, and featured a large animated figure of the Greek hero Orestes searching a vast labyrinth for his sister Electra.
Denton Designs was split six ways between the original team, with everybody having an equal share. But Ian Weatherburn was unhappy. "For Ian, Imagine was heaven on earth," says Steve. "He wanted Denton to be just like Imagine. When we signed the contract to do Shadowfire, Ian said we had to do it his way or he would leave. So we sacked him. Actually, he's now working for Ocean."
Shadowfire, which we tipped as a Sinclair User Classic last month, is the most impressive piece of software so far programmed by Denton Designs. An icon-based adventure, it dispenses with text and uses menus full of pictures of objects. You move a cursor around these pictures, or icons, to choose your action or movement.
The game is very much Denton's, although published by Beyond. "Beyond has never pressed us on a game, although they do test it, and say whether it has appeal," says Steve. "If we had a game and both Beyond and Ocean didn't like it we would respect that. They have a pretty good track record.
---
"Writing software is as creative as writing a song. We need to appeal to people of all ages"
---
"On the Commodore 64 Shadowfire there was a bug. A phantom would appear and attack members of the Enigma team. We couldn't work out why, so we decided it was Zoff's pet. It turned out there was a spelling mistake on a single mnemonic in the machine code somewhere. We've taken the bug out now, so the bit in the booklet about Zoff's pet doesn't matter any more."
Gift from the Gods was a direct descendant of Bandersnatch, in that it had a large animated figure wandering through the screens. But the icon system on Shadowfire was new. Ian Weatherburn conceived the idea of an icon-driven adventure back in the Imagine days, but nothing was ever done about it. Denton sees the icon system as something on which a whole range of products could be based.
"After Christmas we may change direction and move away from games." ruminated Steve. "The icons could be used to produce a library of routines for education software, and maybe special software for magazines and the like."
Commodore freak Dave Colclough joined Denton after Ian left, and more programmers have come in since. They are mostly ex-Imagine people - from Thor, set up by Imagine director Mark Butler, or Concept, a similar outfit to Denton but responsible for the Argus Mind Games series. A sense of déjà vu creeps in. Wasn't it this that went wrong at Imagine - growing too fast?
"We had to expand or go bust," says Steve, simply. "People say we shouldn't but we had to." Contract work demands it - you cannot afford to turn people down. If you haven't got enough programmers you have to hire some more. That's the theory, anyway.
Certainly Denton has been in demand. Apart from Gift from the Gods and Shadowfire, the list of credits includes World Series Baseball for Imagine 84, Spyhunter for US Gold, and, yet to be released, Roland Rat and Frankie goes to Hollywood for Ocean, Shadowfire II and Bouncers for Beyond, plus, no doubt, more secret projects.
The games fall into two categories. There's conversion work, like Spyhunter and Roland Rat, and there's Denton's own which seem to be considerably superior. The Frankie game, example, is Denton's own work, and quite superb. "Frankie was deigned by four non-games-playing people and that could prove to be really good," says Steve.
John Gibson, Kenny Everrett, Ally Noble and Karen Davis are the lucky quartet. Lest you find the naming of names boring, know that Steve and his pals are saddened by the lack of recognition given to the programmers and artists. "These days when you pick up a paper it shouldn't be 'Bill Delaney of Beyond says ...'. It should be 'Mike Singleton says ...'." It's a fair point; Mike wrote Lords of Midnight, and he's a freelance.
"It works because we're all close friends," says John Gibson, taking a brief break from his labours on Frankie. "We argue a lot and call each other names but we're still friends. If my games lack anything I suppose they lack gamesmanship."
"Your games don't lack anything at all," soothes Karen.
"No, it winds me up sometimes," says John. "A game like Elite's Airwolf gets slagged off by all the reviewers but gets to number two in the charts. Other games with rave reviews don't sell at all." Haven't the distributors and retailers got something to do with that? "Smiths and Boots are important, yes. I strongly object to people like Boots who say they won't stock a game because the box won't fit on their shelves."
If anything has crossed over from Imagine, it's the sense that programmers are creative people, artists in their own right, and that software is part of the entertainment industry. "It's just as creative as writing a song," says Steve. "I'm talking from experience." Mind you, Steve Cain never made any money out of his songs.
"I'd like to see designers and programmers seen as creative people. Software is too much regarded as a toy. The vital statistics of the end user are changing." What? They're getting fatter? "No, they're getting older. We need to appeal to people, of all ages, instead of just producing masses and masses of arcade-type games. Mind you, it's probably about time for an old-style shoot-em-up."
Games design does not come easily, according to Steve. The idea of having a team of characters in Shadowfire, the Enigma team, was so the player would identify with at least one. "Karen insisted the game needed a female character so we invented Sevrina," explains Steve.
The desire to include female characters and the like opens up some of the moral questions about games. Does Denton Designs have strong feelings about the sort of games they write particularly since the programs are written for other companies? After all, the company has worked for US Gold in the past, who brought out Raid over Moscow, criticised for its political overtones.
"We wouldn't see that sort of thing as a game idea in the first place," says Steve after much reflection. "There are definitely some people here who would feel unhappy about it, although I have no strong feelings myself."
Violence in itself however is not an objection. Christmas will see the launch of Bouncer, which is what Denton is calling a new game for Beyond on its Monolith label. "The game has gladiators of the future trying to propel a metal ball to a goal. There are eight character types to choose from and you can play against an opponent."
The success of Denton in a short space of time has much to do with the relaxed, enthusiastic attitude of the team. It is also a benefit not to have to worry about advertising, duplication, packaging, distribution and all the other expensive aspects of producing games which so often bankrupt software houses. Are we seeing the birth of a new type of progamming house, where publishers seek out the creative team they require for particular projects? Steve is quite convinced of the rightness of Denton's approach.
"It will be more important to our clients to have our names on the box than theirs," he says, confidently. At Imagine they tried to conquer the universe, and failed. Today they'll be happy with a decent slice of the market - and seem set to capture a lot more.
---
Sinclair User
July 1985