---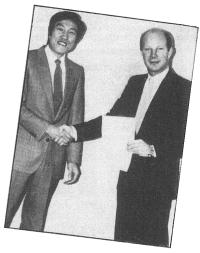 David Ward, Shogun of Ocean, takes on Kenji Hiroaka of arcade firm Konami at the ancient Japanese game of 'honourable bone-crushing'. David is the one on the right.
Price of fish is going up ...
SIR CLIVE is well-known as a patron of the arts. He was invited to the launch of So Long and Thanks for All the Fish by Douglas 'Hitchiker' Adams, and, so the story goes, he tried to buy a copy on the spot. Since the organisers were running short they suggested he bought one the next day. "I want it now" demanded Slugger, and promptly wrote a cheque for £1000.
"It all sounds most unlikely," says a spokesman for Sinclair Research. "I hope the cheque didn't bounce ..."
Hi-tech raffles
The C5 is rapidly becoming a market leader - as a raffle prize. A party at the flash Hippodrome nightclub in London had a pink C5 as a prize, apparently because the do was a 'Pink Hippo' party. The mind boggles. But the peripatetic trike aspired to even greater fame as a star guest at the Woman's Conservative Conference at the Barbican.
There can be no greater accolade in the world of raffles than to have a horde of imposing Tory ladies jostling for a ticket. The C5 has clearly made it at last ...
Hail and farewell
Personal Computer News is dead. The weekly paper was publisher VNU's last foothold on the home computer market, and it seems to have taken a while to make up its mind. "It's the fourth time we've folded, so we're getting pretty hardened to it," says features editor John Lettice. "You want me to say something really tacky but I won't. We're **@$ed off." ...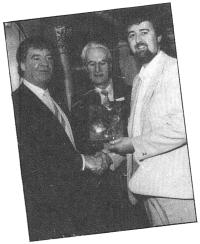 Kevin Toms, who wrote Football Manager and not much else, congratulates Laurie McMenemy on drinking 17 pints of Barbican without throwing up.
Duffy breaks vow
Paul 'Trappist monk' Duffy - Gremlin, May - has resigned as general secretary of the Guild of Software Houses. "A purely amicable arrangement," says chairman Tim 'mega' Langdell.
Meanwhile, let's set the record straight on Duffy. The Silent One also says he didn't 'leave' Prism, he was sacked. And sued them. And got some dough.
Gremlin knew all that, but was too tactful to say so at the time. For the record, Paul resigned from GOSH. Until he tells us otherwise, of course ...
Full of beans
Khan of Khans David Ward, emperor of Ocean and all its islands, takes a break from one of his 73 day meetings to confirm another tale of his colourful past. This one concerns his great scheme to manufacture unusual coffee percolators in Poland at five pence a time and flog them on the streets of Liverpool.
"Cafetierès," says David and changes the subject. It appears he's been skiing recently in exalted company. "My name has not been linked with any of the crowned heads of Europe's daughters," he says, smugly. Does Princess Stephanie of Monaco know it hasn't been linked with hers, too ...
Stomach turning
Mastertronic writes to announce its discovery of the back of crisps packets, and thereby wins the month's Brazen Backslappers Award. So watch out for KP Skips and the fabulous Clumsy Colin Action Bike model you can get by sending off 342 empty packets.
Mastertronic is joining in with an ad for its game of the same name, appearing on 12 million packets of what a KP spokesperson described as "small round things."
"The Clumsy Colin game and KP Skips will both be on sale at grocers," says Mastertronic, describing this as a happy coincidence.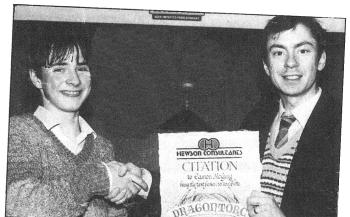 Programmer Steve Turner gives a masonic handshake to Dragontorc ace Eamon McGing. He's hoping Eamon can help him out with the 16 grand Hewson lost on the Tiger fiasco.
Gremlin fully understands the wisdom of the deal. KP Skips is probably the only product which tastes worse than a Mastertronic budget special ...
Sinclair at war
Unlikely customers for the QL pop up everywhere. Four Systems, which offers cut-price microdrive cartridges to purchasers of its Cartridge Caddy storage box, proudly announces its status as a 'supplier to the Ministry of Defence'.
So what is Heseltine doing with all these QLs, asks Gremlin. Is the machine an integral part of the cruise missile procedure - 'make sure formatted bomb is present in drive two'? Or does Tarzan simply hope all important data will become hopelessly and irrevocably corrupt long before any civil service moles can get their paws on it ... ?
Italian connection
Finally, thanks to K Riddick of Plymouth for his revelations concerning Genoa International Airport. It seems the arrival/departure screens have a flashing 'C' cursor in the lower left hand corner and a very familiar typeface. Gremlin has long suspected something fishy was going on at Italian airports, and the news that Genoa runs off a Spectrum explains a lot.
The question is, which Air Traffic Control simulation are they using in the control tower? Further titbits from holidaymakers will be gratefully digested ...
---
Sinclair User
July 1985