---
Virgin revamped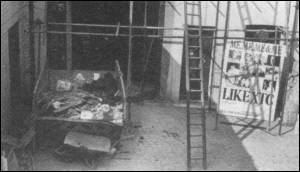 Virgin Games' prestigious new headquarters
MEDIOCRE software has become the hallmark of Virgin Games, but the autumn is going to see a fresh start for the company according to managing director Nick Alexander.
Virgin is going to change its approach to the games market and no longer release a mass of titles for a wide range of machines. Instead it will focus its attention on promoting one or two new titles at a time, concentrating on the Spectrum and the Commodore 64.
Alexander says: "This autumn we are only releasing six titles, all of which have been extensively researched and tested for market appeal and we are going to market the hell out of them".
Two of the six titles are Spectrum games. The first, released in September, is Strangeloop and is Virgin's answer to the Jet Set Willy cult. It is an arcade adventure game and Virgin is offering a £2,000 robot for the first person to complete it.
Steve Webb, Virgin's Technical Manager, says: "We believe that Strangeloop takes the Spectrum to its limit. We would have called it a Mega Game but we felt that the term has been devalued".
The Biz is the second new Spectrum release and has been written by Chris Sievey of rock group The Freshies. It simulates the life of a rock star whose aim is to get to the top, a vocation which Sievey has been following for some time.
Both games use the specially developed Flashload technique which allows programs to be entered in under a fraction of the normal load time.
Virgin is also dropping some of the titles that they have been marketing. Jeremy Cook, commercial director, says: "We've taken our complete catalogue, thrown out the few duff titles that we, like everyone else, have had, and are putting the rest on sale at a retail price of £2.99 until the end of November. That's a saving of between nearly £3.00 and £5.00".
Anti-piracy software
A REVOLUTIONARY remedy to software piracy has been introduced by CSP Systems.
Padloc Nine is a software-based device which can be operated from a Basic program and will protect cassette software for the Spectrum.
The package requires no extra hardware to operate it and is unlike any other system because it acts against copier programs and not hackers who are intent on using their initiative to break into programs.
The system is aimed at any programmer or software house that requires it. The company claims that pirates are unlikely to even detect the operation of the device within a piece of software and that no duplications of a program need be alike.
More information about Padloc Nine can be obtained from CSP Systems, Leeds.
Imagine programmers join Beyond
IMAGINE programmers have been found alive and well and working for Beyond, the company which produced the Lords of Midnight adventure game.
The group of six including John Gibson, of Stonkers fame, is working on an adventure, called Shadowstar, for the company. Simon Goodwins, says: "They approached us as they were looking at the possibilities of staying together as a group".
One of the head programmers working at Imagine who did not join the group when the company went into liquidation was computer whizz kid Eugene Evans. Like the other directors of Imagine, he appears to have gone to ground.
Our readers know best
SINCLAIR USER is the second best selling computer magazine according to the Audit Bureau of Circulation (ABC) figures for the six month period January to July 1984.
The magazine had an audited circulation of more than 96,000 and no other monthly or weekly computer publication has equalled that in the Sinclair market.
As the Sinclair User circulation continues to grow, its readership grows even faster. A recent survey of home computer usage showed Sinclair User was the best read computer magazine with more than 250,000 readers.
Comrade Clive
SMUGGLING COMPUTERS into Yugoslavia used to be big business because the government frowned upon the import of machines by individuals.
Despite the unofficial ban on microcomputers small groups have been able to smuggle machines into the country. As a result at least 20,000 machines have been smuggled in, two computer magazines have been launched and a game for the Spectrum about computer smuggling, called Contraband, has just been released.
All that is about to change, though, as Sinclair Research has agreed a deal with ISKRA electronics to import Spectrum parts into Yugoslavia where machines will be assembled and marketed.
Asked whether the decision was taken at government level Julian Goldsmith of Sinclair Research says: "Our overseas policy has always been to work with British embassies and consulates so I would think that something like that would be the case"
The Yugoslav Embassy could throw no light on the matter and told us to contact the Yugoslav economic chamber. A spokesperson there says: "There is no ban on the import of computers but an individual who tries to bring a computer into the country may have to pay certain duties. I'm afraid I can't tell you any more as it changes so often".
Playing for time
A WORLD record for the continuous playing of computer games has been claimed by 18-year-old Sean Sullivan of East Yorkshire.
He and his friend Paddy Bell started the attempt at 8 pm on Tuesday 28 August at the Bridlington Computer Centre. Paddy gave up on Wednesday afternoon, after 30 hours, but Sean went through until 10 pm on Thursday 30 August. The record was set at 50 hours and Sean says: "I had set myself this target when I started, yet when I reached it I still felt fresh enough to do a lot more".
Unfortunately, the Guinness Book of Records has refused to have a category for the continuous playing of computer games. The organisers of the event say, however, that it was conducted under the strict standards required by Guinness in the hope that the organisation will relent.
Sean was allowed a five minute break during each hour of the event and two independent invigilators were present at all times. The software was supplied by the Bridlington Computer Centre and the machines used included both the ZX-81 and the Spectrum.
The marathon was sponsored in aid of the Kingfisher Trust, a charity whose aim is to set up a leisure centre for young people in Bridlington, especially those who are unemployed.
Mike Gowen, Chairman of the Trust, says: "We are delighted to be involved in this magnificent effort by Sean and Paddy. Not only will they have raised several hundred pounds for the Trust, but this has given us the opportunity to be involved with young people in something which is of great interest to them, namely computer games. As a result of this Sean and Paddy have already offered their services to help teach young people to program and use computers more effectively, just as soon as we have our centre".
Fuller is bought out
THE FATE of Fuller Design, the company which produced hardware for the Sinclair computers and alienated many customers as a result, has finally become known. It has been acquired by a company called Nordic Keyboards.
As a result of the move managing director Roy Backhouse and his 12 staff have been made redundant and the company name and tooling taken by Nordic.
Backhouse blames a magazine publisher for paving the way to the ruin of a company which last year had an annual turnover of £500,000. Fuller owed the publisher £3,000 in advertising debts but when the case came to court Fuller Design was wrongly named as Fuller Micro Systems and the claim failed.
Unfortunately, the news of the debt made other companies wary of doing business with Fuller. Backhouse was forced to call a meeting of creditors and later the company was sold.
The new owner has promised to correct the kind of delivery problems which customers had experienced.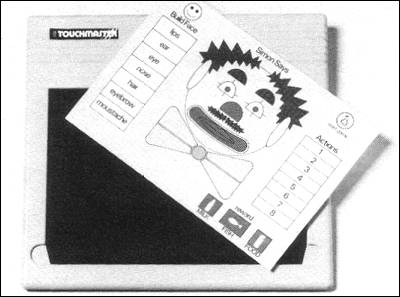 A REVOLUTIONARY touch sensitive keypad from Touchmaster will provide an aid to those who have difficulty using the Sinclair keyboard. The device interfaces with the computer and, with the aid of a series of learning packages together with pad overlays, to be released later this year, will do away with the need for a keyboard.
Weetabix goes soft
A NEW ARCADE game called Weetabix versus the Titchies is to be launched by Romik Software to coincide with a television competition campaign by cereal maker Weetabix.
The game features the characters of the popular television advertisements, runs on the 48K Spectrum and was written by Chris Ratcliffe. Romik says "we're glad to be leading the way into the consumer market".
Computer machismo
FEW PEOPLE may know but 1984 is supposed to be the year of WISE - Women Into Science and Engineering.
According to research done by Ebury Software, however, women are not getting a fair deal in the world of computers. The company report, collated by Audience Selection, shows that males hog the computer at home as well as in the office. In selected families 51 per cent of sons and 25 per cent of fathers used the computer most as opposed to 19 per cent of daughters and only five per cent of mothers.
As a result of the survey Ebury, an imprint of the National Magazine Company, is determined to generate more female interest in computers by publishing software which is specifically aimed at women. These titles will be launched under the name of one of NMC's magazines, Good Housekeeping, which the company hope will promote the cause.
Roger Barrett, Publishing Director of Ebury says: "A woman has just as much ability as a man when learning about computers. In fact, the positive, traditional skills women have, for example, organisation, typing, languages and plain old commonsense, are all very relevant to computers".
A new book, Women and Computing, by Rose Deakin also follows the theme and shows that it is possible to break into the computer world with few qualifications. Deakin explains that some of the greatest programmers in the world were women, such as Ada Lovelace.
More information about the book can be obtained from Papermac, London.
---
Sinclair User
November 1984