---
Cricket Captain makes the first eleven. Chris Bourne interviews the team.
Bowled over by sudden success
ADLINGTON is cricket country. As the slow train north from Manchester emerges from the industrial suburbs into green fields and copses, you expect to see at every turn white-clad villagers performing the slow ritual of England's summer obsession. When the train reaches Adlington, there is Adlington Cricket Club, hedged and gated, the wicket immaculate and the pavilion gracefully decaying.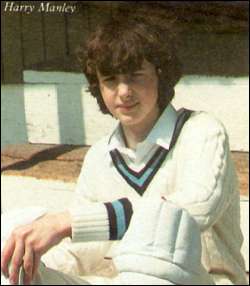 Adlington is also the home of Karl and Harry Manley, better known as Allanson Computing, publisher of the successful Cricket Captain game. The two brothers operate the business from their home in the village. Karl, a 23-year-old teacher, handles most of the administrative chores while his younger brother Harry writes the programs.
They had the notion of writing a commercial game in August, 1983 and the choice was influenced by Football Manager from Addictive.
"The idea of a cricket program struck me because I knew a little about the game and liked it," says 16-year-old Harry. "It took three weeks of non-stop work." Harry started with a detailed flowchart of the various sections of the game - "Spaghetti programming", according to Karl - and then designed the graphics.
The game is a scaled-down version of one-day cricket, with three-ball overs - you can pretend you are watching only the interesting strokes. It is similar to Football Manager in that you have a squad of players each with several skill factors, including one based on current averages, and after choosing the team the batting is all handled by the computer.
When it is your turn to bowl, however, you can set your field and choose your bowlers over by over, skill being the main determinant of whether you win or lose.
Harry's first experience of computers was, oddly enough, during a French language course in Guernsey. One of the teachers at his school had taken a UK-101 computer with him on the course and gave lessons in Basic programming. As soon as the ZX-80 arrived the brothers bought one.
They kept the machine for two years and Harry says it taught him a good deal. By 1982 they had exhausted the possibilities of their expanded machine, complete with weights perched on the RAM pack to prevent the notorious Sinclair wobble. They toyed with the idea of buying a new 8K ROM but then the Spectrum was announced so they ordered that.
The next landmark in Harry's career was the announcement of the Bolton Council Young Computer Programmer of the Year competition. Harry had been working on a program for his 0 level course and decided to enter. The project was an accounting program for a marina.
"My grandma runs a farm beside the Leeds-Liverpool canal and boat owners pay a few pounds to moor their boats." The program was designed to do the arithmetic for the operation, although Karl says their grandmother is not very fond of using it. Harry trudged through Bolton with his Spectrum in a black plastic bag and was a little alarmed at the size of the deputations of the other finalists. Nevertheless, he won first prize and it was at about that time that the brothers began to feel they could produce software of sufficiently high quality to market commercially.
When Cricket Captain was written, they decided to market it themselves. They thought they would be more successful if they had a name, and chose Allanson Computing after their grandmother's farm. They registered the company for VAT and put a classified advertisement in a weekly magazine. They sold five copies.
"We thought that was good," says Karl. "We cleared our costs and made a profit of about £10." The next move was to go to a local store at Bolton to persuade it to stock the game.
"It would not load at first," says Karl. "Then they found a bug in it. We could not believe it. It proved to be a problem with the GO SUB stack."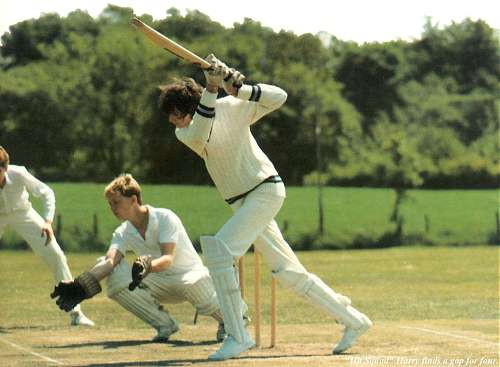 Having solved the problem, they managed to sell a few copies to the shop and also placed a semi-display advertisement in another magazine. That did not succeed so well but by then a review of Cricket Captain had been published and orders began to arrive. "It was incredible," says Karl. "We were getting cheques and things. We were celebrating every day - we wrote to the first person to buy the game and told him we would send him a Christmas card."
Selling a dozen or so copies of a game may seem like peanuts but to Harry and Karl it was all the stimulus they required. In spite of the adverse reaction from other local shops, which did not appear to believe that the game could succeed where previous cricket games had failed, they decided to go for the big time and sent Cricket Captain to W H Smith. After a number of telephone calls as reminders of their continuing existence, they finally received an order for 1,000 copies of the game, provided they produced a proper colour inlay for the cassette.
"We were elated," says Karl. "I came from the farm with a bottle of wine and then thought 'Hang on, we have to get something sorted out first'." The bottle of wine remained intact and Karl and Harry set about improving the presentation of the game. They persuaded a schoolmaster friend, Len Bates, to design a colour picture for the cover and bought a cheap tape copier for £120.
"It was a good job we were on holiday," says Karl. "It took us three days to design and then it had to go to the printers. Smiths was good enough not to give us a definite date. We despatched a thumping great box. It was supposed to be a three-day service but the box spent two weeks in a Manchester warehouse."
The story might have ended there, since the insurance on the tapes was much less than their value, but luckily the error was discovered and the shipment was eventually delivered. Since then Smiths has placed two more orders for the game and it has appeared in the Top Ten listings. Harry and Karl remain down-to-earth about their success.
They have written to all the other major distributors but so far only Boots has shown interest. Nor have they received any cheques from Smiths, which has left Allanson Computing with an empty bank account and little capital for future projects. Once the money starts to flow, the brothers are planning new ventures.
Since Cricket Captain, they have already released Lettafont, a utility program developed primarily to aid them in writing their own programs. It re-designs the graphics and character set of the Spectrum offering a choice of type-faces.
Harry is working on another project. "It simulates the sport of the future and is very near completion," he says. "It will include arcade action as well as strategy and the arcade routines will be in full machine code."
He has little trouble relating his success to school life. "My arch rival in the Bolton competition was a bit peeved," he says, "but most of my friends think it's great." He wants to study micro electronics at university, or a related subject. "I do not play games often," he says, and then adds "It is more fun to do it for money."
When he said it, he grinned. It reminded me of Ian Botham just about to hit a six.
---
Sinclair User
August 1984