---
Data-Assette entered the ZX-81 market via its tape business. It now sees its future tied closely to the Sinclair machine
Leading the way into new export markets
A SMALL wooden sign on an anonymous blue door in a side-street in the centre of London is the only clue that behind it is one of the fast-growing companies which is taking advantage of the explosion in demand for the ZX-81. It is a company which is becoming much better-known overseas than it is in this country.
Despite its business in Britain having grown substantially in the last year, its export sales have grown even faster. It answers queries regularly from and plays host to ZX-81 enthusiasts from all over the world.
Data-Assette attracted the attention of ZX-81 users when it introduced the ZX-99 tape control system in April. It entered an add-on market which was depressed in Britain because of the launch of the Spectrum. The market for exports, however, was just beginning to expand.
---
'The ZX-99 entered a depressed British add-on market but the market for exports was just beginning to expand'
---
"We launched the ZX-99 when the market was reasonably mature in Britain but it was only just starting in the rest of the world and I think that helped us a great deal," says sales manager Nigel Boyle.
"Whereas users in this country already had many of the add-ons available in the market and were buying the ZX-99 to supplement them, people overseas were only just beginning to look at the add-on market and when they placed an order with us they were also asking for other items from other companies.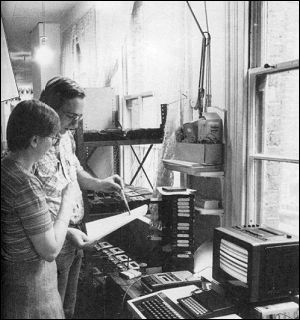 Gwen Shafieian and Nigel Boyle study their new copying machine
"We are finding that people from overseas prefer to go to a single supplier in the centre of London rather than having to visit all the add-on suppliers throughout the country."
The result is that the company now acts as an export agent in most of Western Europe and the English-speaking world for a number of companies, including Kayde and Phoenix Marketing for hardware, and software houses such as JRS, Artic and Carnell.
Data-Assette is the latest venture by an American, Pete Wills, who bought a small British mail order company which was in difficulties two-and-a-half years ago. He managed to turn round the company initially by selling clock radio recorders aimed at Open University students who could use them to record their lectures, broadcast usually at awkward hours.
The company then expanded into the market for hi-fi accessories. One of the major markets was selling cassette tapes wholesale. It became aware of the home computer market when it began to have a demand for short tapes on which to record programs. Data-Assette was set up to take advantage of that.
"We now supply tapes for the full range of personal computers but the biggest proportion of them are for the Sinclair market," Boyle says.
The company expanded later into the mass production of tapes for software houses and then development of the ZX-99.
"Both the owner and I have Sinclairs and we soon realised that it did not do all we wanted it to do, so we found someone to build what we wanted," Boyle says. "We were talking initially about a switching unit and we went from there to something which would work under program control."
He adds that after developing the tape control system, the company found it had some spare space in the read-only memory. It was decided to use it by adding an RS232C printer interface.
"We now have a product which allows people to have all the facilities of the Spectrum, apart from sound and colour graphics, just by buying a ZX-81 add-on," Boyle says.
"The response has been phenomenal. We are receiving about 20 enquiries a day about it. We realised the market was big but we did not realise how big." Company growth can be seen from the turnover figures. In April, 1981 sales were slightly more than £1,200. In April, 1982 they were £16,000 in Britain, with another £3,000 in exports. By June, export sales had risen to £9,000 but sales in Britain had fallen to £6,000.
"Sales are varying between £15,000 and £20,000 a month and we are aiming for profit on that of about 30 percent," says Mrs Gwen Shafieian. She adds that although the company still sells goods in the old markets, by far the largest part of its turnover is in the Sinclair market.
As the company is growing so quickly, all the profit is ploughed back for further development and keeping Data-Assette working from day to day.
In common with all small, rapidly expanding businesses, Data-Assette has to be careful that it keeps tight control on its financial position. Cash-flow always has to be watched carefully to make sure there is sufficient to pay bills when they arrive. Suppliers usually are wary of new, small companies in the volatile mail-order, home-computer market and can be unwilling to give extended credit facilities.
"Luckily the owner has a good deal of business experience and makes sure we can walk before we try to run. Often he is able to spot the problems before they arise and so we can take steps to reduce them," Mrs Shafieian says.
---
'In April, 1981 sales were slightly more than £1,200. In April, 1982 they were £16,000 in Britain, with £3,000 in exports.'
---
She adds that the move into the export market was an example of the difficulties which could arise.
Although the company would like the market to grow, it has to be sure that it has sufficient capital to cover the increase in the payment period.
"We sent 30 99s to France in April and the payment has only just been cleared. We had to have sufficient to pay the bills while that money was tied-up."
She says that Data-Assette also needs to take extra care of its customers, as mail-order companies generally have a poor reputation for delivery.
"We keep plenty of stock to ensure that we can satisfy orders in a reasonable time and if we are unable to meet an order immediately, we keep customers informed of what is happening," she says.
Although the company is wary of expanding rapidly, it has plenty of plans for growth. It is looking to increase the export side and the mass production of program cassettes.
Talks are being held with Mitsui, the firm which sells the ZX-81 in the Far East, to sell hardware and programs in Japan, Singapore and Hong Kong. It is also looking for more manufacturers in Britain for which it can act as agent. Mills is at present in the States to oversee the increasing business there.
To cope with growth in tape duplication it has had a special copying machine built which allows 50 copies to be made at a time. It has opted for the slower copying system to achieve higher quality and fewer bad tapes.
At present the company buys high-quality Agfa PE68 tape for the blank tapes it sells wholesale and has them wound by a sub-contractor but is thinking of doing it itself.
Another possibility is to set up a retail outlet in the centre of London to serve the many overseas visitors. At present, the offices in Shroton Street, near Marylebone Station, serve as showroom; the company would like premises where it could sell a full range of hardware and software.
Other schemes included are an adaptation of the ZX-99 to fit the Spectrum and the development of software for the business market.
---
Sinclair User
October 1982